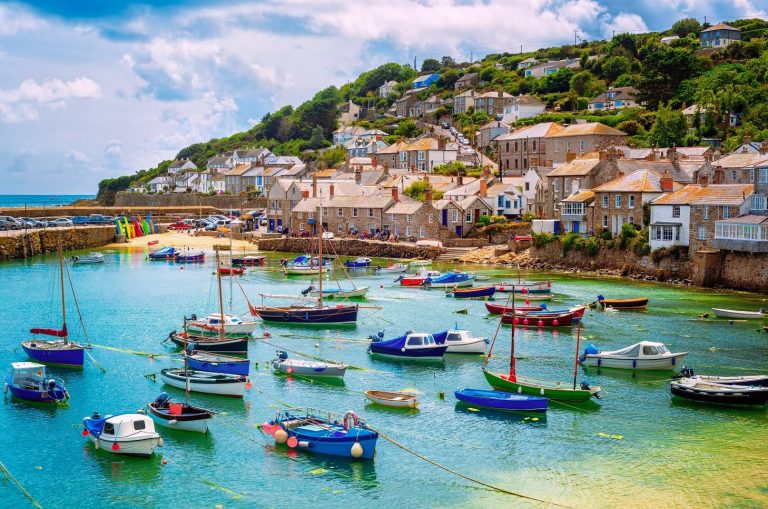 Last Updated on 30th June 2022
If lockdown has taught us anything in the last year, it's to embrace and explore our UK beauty spots and truly appreciate what's been hiding in plain sight on our doorsteps.
With tedious travel restrictions still in place and pricey PCR tests required for trips abroad, more and more of us are choosing staycations over jetting off this summer.
In May 2020, a study revealed that about one-third of respondents planned to spend their annual leave on holidays in the UK. This year, a staggering 73% of Brits will choose to holiday within the UK, even after travel restrictions have been lifted.
From walking through the rolling hills of the British countryside to the countless coastal retreats on offer, it's easy to see why more and more Brits are opting to holiday in the UK.
We've also compiled a list of the most popular UK landmarks to visit to plan your location accordingly. So now that we've got you daydreaming of serene scenes closer to home, here's our top list of UK holiday destinations that you could visit this summer.

Cornwall
Often compared to a tropical paradise like the Seychelles, Cornwall delivers unspoiled beaches with crystal-clear, turquoise waters. It truly is one of the UK's coastal treasures. Whether you're planning to pitch a tent on the beach and surf the morning waves in Newquay or treat everyone to a memorable, fun-filled holiday park for all the family, you're sure to have a trip to remember in Cornwall.
Scotland
If you live in the north of the UK, then the stunning scenery in Scotland could be a closer option for your summer staycation. Capture the breath-taking Aurora Borealis in the Scottish Highlands or cool off after a long walk in the Fairy Pools on the Isle of Skye.
If you're looking for a more challenging activity on your trip, why not take the plunge and hike Ben Nevis? At 1,345 metres above sea level, Ben Nevis is the highest mountain throughout the whole of the UK, making it a great one to tick off the bucket list!
The Outer Hebrides
The Outer Hebrides is one of Scotland's most remote islands. With breathtaking beaches, dramatic mountain ranges and the ruins of Dun Carloway stone fort, this island has it all. The Hebrides are also home to an amazing array of wildlife, including the Houbara bustard which is a rare species endemic to this region.
Of course, with its remote nature, you're going to have to get there by boat or plane – but that just adds to the adventure!
Scotland's Highlands and Lowlands
The Highlands and Lowlands of Scotland: where you can lose yourself in some of the most beautiful scenery on Earth. A holiday here offers unrivalled opportunities to get out and explore the country, whether it's walking in the hills, cycling through the lochs or taking a tour of one of its many castles.
Wales
Have you been dreaming of a getaway to the French Riviera? Then look no further than Portmeirion. With its charming array of coloured houses, straight out of the 1920s, this vibrant village is steeped in history. Boasting acres of ancient gardens and a beautiful beachside too, Portmeirion has it all. Swap the pizzas of Portofino for the Welsh cakes of Wales this summer. You won't be disappointed!
The Valleys
Outside of the popular Welsh coastal towns, there's a surprising number of hidden gems in Wales and the Valleys.
Whether you're looking for an adventure, a big day out or some peace and quiet, this is one of the most diverse areas in Great Britain.
Snowdonia National Park offers some of the best mountain biking tracks in Europe with miles of biking routes to explore. There are also some exhilarating zip lines to get up close to the wildlife, including peregrine falcons, red kites and black grouse.
For those looking for something more sedate, head to nearby Harlech Castle for panoramic views over Cardigan Bay or take a boat trip around Tremadog Bay.
Wales' Lake District
This tranquil mountain-filled region is a great place for walkers to explore. You'll find waterfalls, forests, and meadows. With a wide variety of activities available, the Lake District is a great summertime destination for those looking to escape the crowds.

Devon
With striking, jagged cliff faces that plunge into the contrasting turquoise seas below, you'll certainly want to pack your camera when visiting this beauty spot. If the Jurassic coastlines aren't enough for you, this County also boasts two National Parks – making it every hiker's heaven! It's easy to see why this diverse destination is often described as 'Mother Nature's Playground'.
The Beaches of Northern England
Often missed is the wonderful beaches of Northern England. This region is known for its long, sandy shores and wonderful coastline rivalling the likes of Mallorca in all but the weather. You'll be able to find some of the best beaches on the planet here, including Saltburn-by-the-Sea and Filey Brigg. However, you'll also be able to enjoy plenty of other activities such as walking along the promenade or taking a ride on a clifftop railway.
The Peak District
The Peak District covers the north of England and is perfect for outdoor activities. The area has an extensive network of public footpaths, bridleways, and cycle routes. It's also home to many historic sites, including Buxton Festival Theatre and Carsington Water.
If you're looking for a breathtaking view, then Mam Tor is your destination. This gritstone hill allows you to see the whole of the Peak District from one vantage point.
Cumbria's Lake District
The Lake District, in Cumbria, is one of the most beautiful regions in this country. It's home to some of the most scenic lakes in England and Wales, including Ullswater and Windermere. With hills like Helvellyn and Scafell Pike soaring high above the valleys, there are plenty of opportunities for hiking, mountain biking and horse riding.
If you're looking for a true taste of English culture, then head down to the small town of Keswick for an afternoon tea. If you want to learn about the region's rich history—especially its links to Beatrix Potter—visit The National Trust's Brathay Hall & Gardens just outside Ulverston.