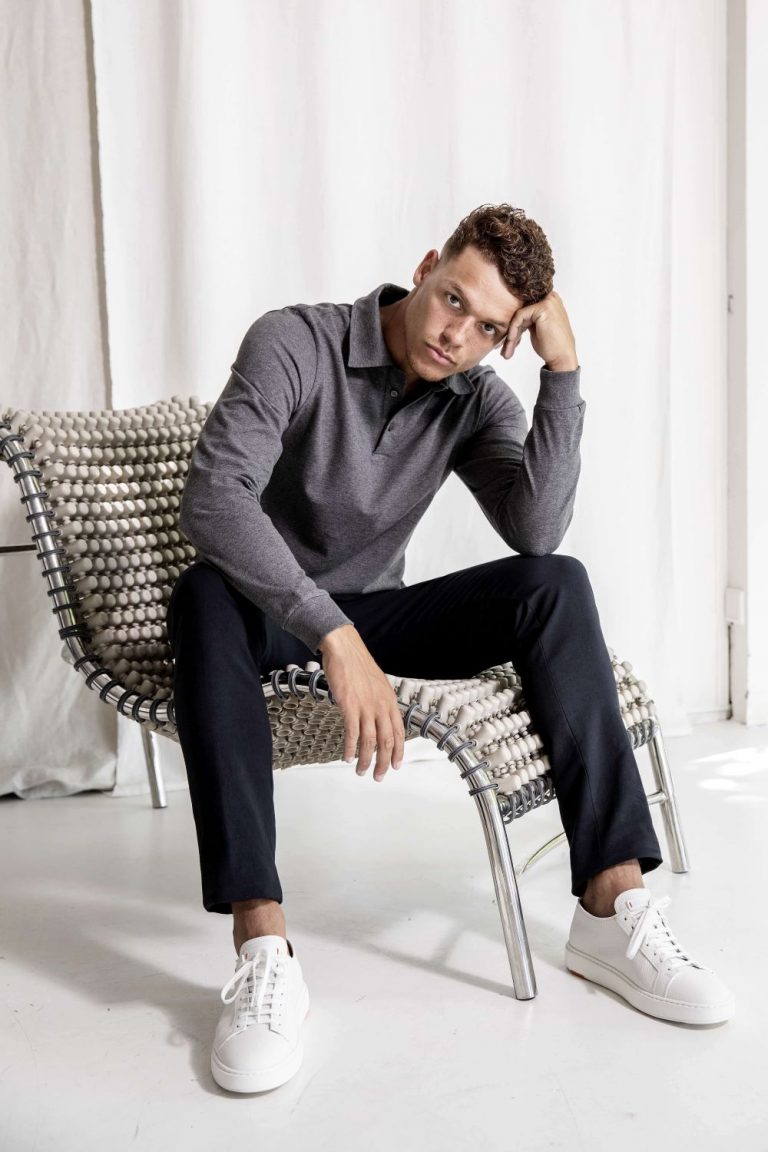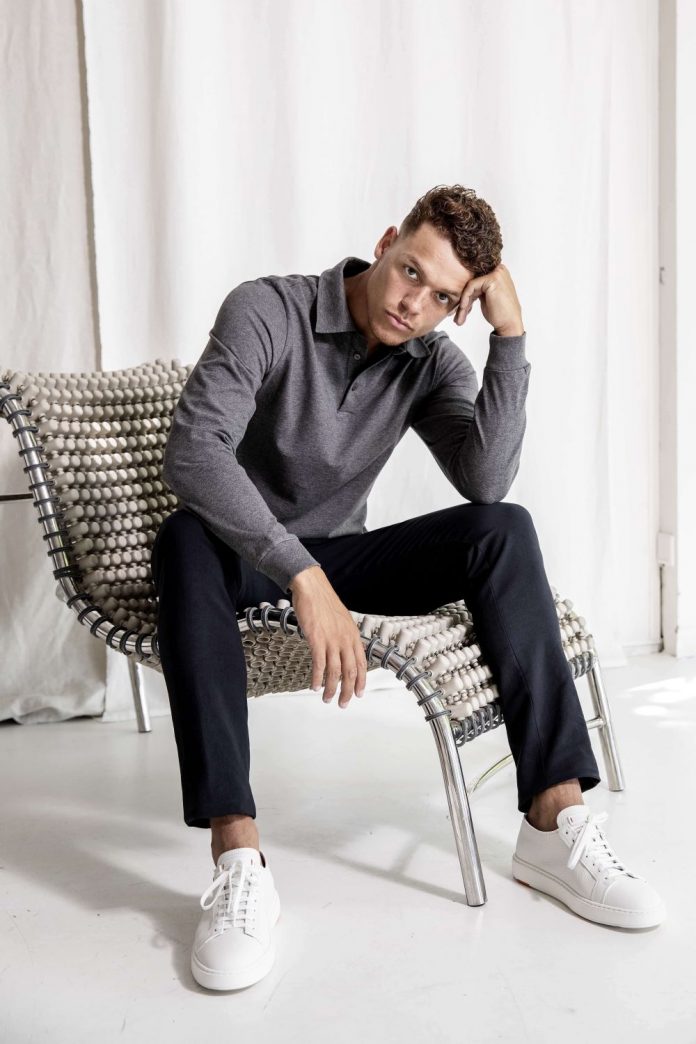 Last Updated on 29th June 2023
The polo shirt is and has always been one of the most iconic and versatile piece of clothing that we have. Men and women get to pair this classic with an array of outfits from smart to casual and from boardroom to beach but have we ever really thought about how and why it and its long sleeve partner have remained a fashion staple for so long.
The shirt, originally designed and worn by English gentlemen whilst living in India as a means of looking smart whilst riding the polo ponies it wasn't until a man named John. E. Brooks from the American tailors, Brooks Brothers visited England and saw a polo match being played that the design was produced for consumption to people other than the polo fraternity.
It's many guises and fashion labels that have used the iconic shirt including, Lacoste, Ralph Lauren, Stone Island and Fred Perry have seen it remain not only popular but pretty much the way it has always looked. There is an old adage that goes "If it ain't broke, don't fix it" and this applies to a design that has not change in 200 years.
The Long Sleeve Polo Shirt
The only addition to the classic polo shirt was the long sleeve version. Some have argued that this was what was known as a rugby shirt after the players of the game of Rugby Union but the slight and ever so small differences like the softer material used, the refined feel and the longer back panel sets the long sleeve polo aside from the rugby shirt.
Long sleeve polo shirts are one of the most versatile, comfortable, and stylish wardrobe essentials that perfectly blends a casual and refined style. Whether aiming for a smart-casual look or a laid-back vibe, long-sleeve polos can easily elevate your ensemble. Think Richard Gere in American Gigolo!
In this guide, we aim to show you the various ways to style these timeless items of clothing to create fashionable outfits for men. Combining the long sleeved polo with trousers, shorts, footwear and accessories so that your everyday modern wardrobe staple can elevate any look, style or trend.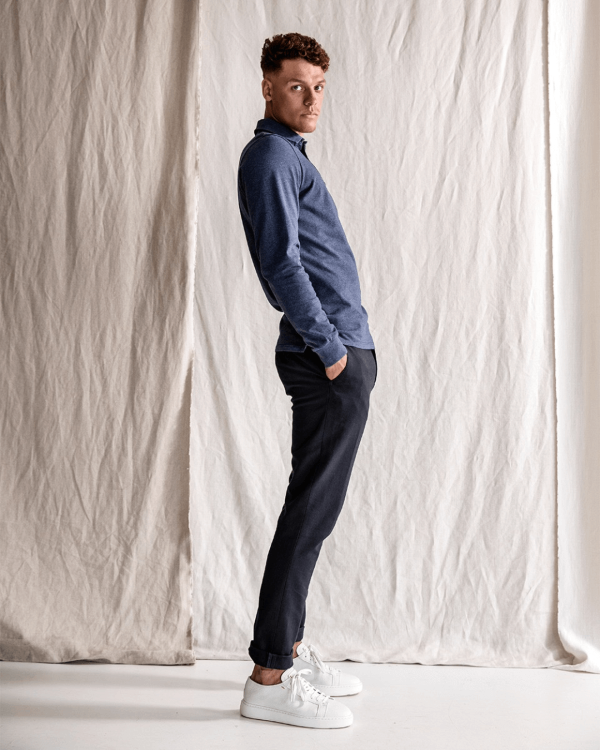 1. Part of a smart-casual outfit
A long sleeve polo shirt is often styled in similar ways to its short-sleeved counterpart, with the added advantage that it can be worn all year-round. Long sleeve polo shirts are more casual than the traditional button-down or dress shirt and more sophisticated than a T-shirt, which makes them a fantastic choice for a smart-casual outfit. Pair them with a pair of tailored trousers – such as the trousers from men's fashion by RIJP – and loafers, boots or a crisp, clean pair of white trainers, and your smart-casual outfit will be complete.
2. Wear them with jeans
You can also go for a even more casual approach. The smart-casual style is ideal if you're going to a business meeting, wedding, lunch date, for example, but for less formal situations, you can also pair your long sleeved polo with a nice pair of denim jeans. As the polo shirt has a collar, they are best matched with a tailored, slim or skinny jean as they don't tend match well with very baggy jeans, ripped or distressed jeans.
A light coloured, long sleeve polo shirt goes so well with a dark coloured jeans, brown belt and either nice brown brogues or loafers or equally well with those ubiquitous white sneakers.
3. Long sleeve polo shirts in layered outfits
Though long sleeve polo shirts are often worn as a standalone top, they can also be worn as part of a layered outfit. If you're going for a smart look, combining your polo shirt with a stylish blazer is the way to go. Think about matching it with a contrasting waistcoat in the warmer months. Another great, layered option to retain warmth for the year's colder months is to wear a pullover on top of a polo shirt base layer, creating a comfortable, stylish and neat look.
4. The casual kind of long sleeve polo shirt
The looks we've mentioned so far have all been, to a greater or lesser extent, smart. That in essence is mainly due to the fact that most long sleeve polo shirts tend to be wearing are plain-coloured, which, combined with chinos, jeans, slim leather belt, and smart trousers, makes for a smarter, more clean-cut look. However, there is nothing stopping you from taking that polo shirt down to an even more casual level.
Combining it with a pair of tailored or combat shorts, untucked will give you that versatile option to take the day into night. You can be out with friends during the day and then straight on to a restaurant in the evening without having to alter you styling.
5. Roll up your sleeves
So, you have the long sleeves, and they can make the polo shirt seem a little more formal than its short sleeve counterpart. A simple rolling of the sleeve to just below the elbow level gives a whole new dynamic to your overall look. It says that you are ready for any weather conditions too. This may seem a little obvious but the whole style changes with one simple addition or this case subtraction.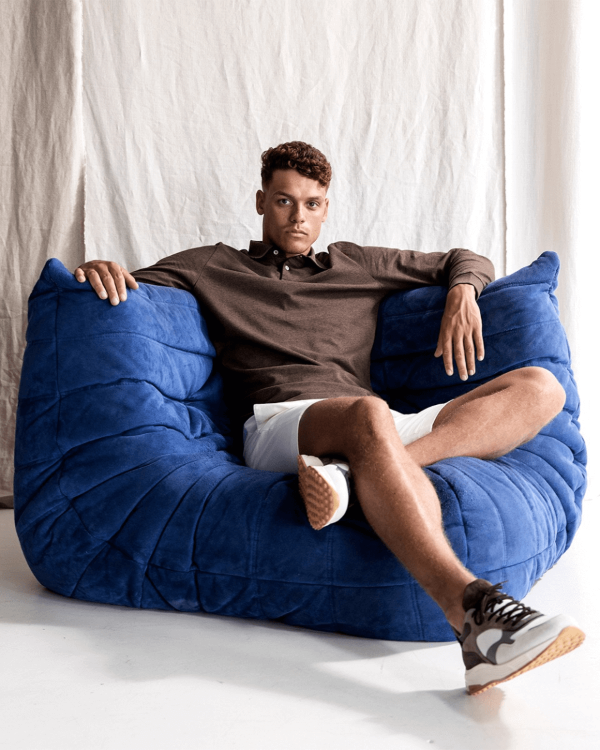 6. Bold prints
The long-sleeved polo shirts that we have spoken about so far are one block colour from dark blue, black, red, cream and the classic white but why not add some colours with bold prints. Stripes and multi-coloured polos are a sure fire way to open up new outfit options in your wardrobe and all can be paired with the jeans, chino, shorts, and sneakers look. These kinds of bold and bright long sleeve polos, however, are most definitely suited to casual outfits.
In Conclusion
Since the initial use of the polo shirt and its sporting days it has gone on to become an essential item of clothing in our collection. From short sleeves to long sleeves, the humble polo shirt looks like it mis hear to stay as a fashion must-have.