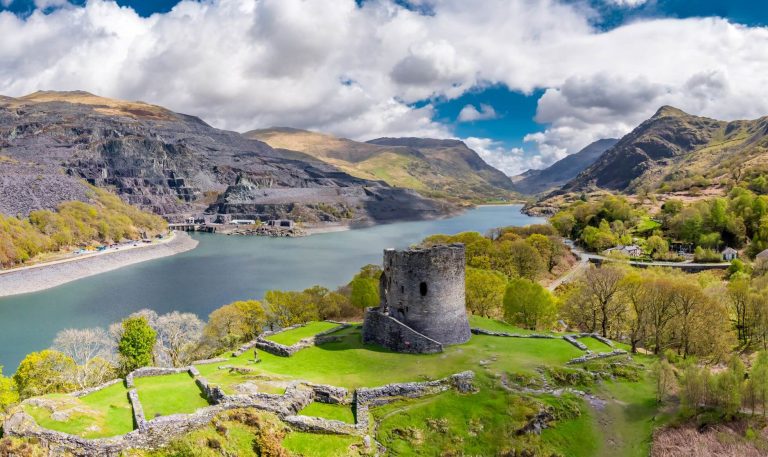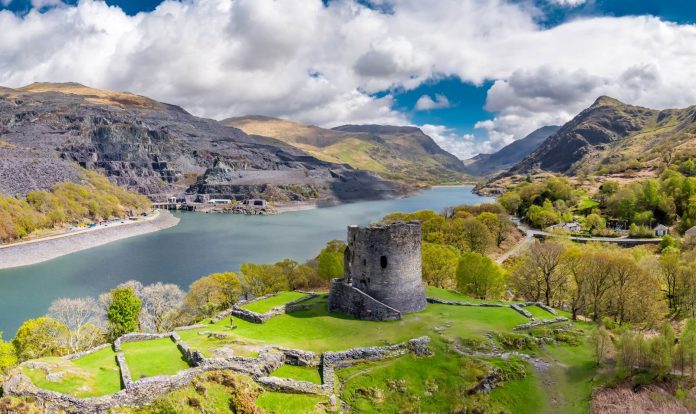 Last Updated on 20th June 2022
With many being forced to take breaks in the UK instead of abroad during the past 18 months, it's little wonder that Britain's gems have enjoyed an increase in popularity with tourists. As holidaymakers soon discovered the beauty that lies on their doorsteps, TripAdvisor ratings for the UK's popular hotspots soared.
And with the UK holiday trend looking set to continue, we take a look at some of the most popular UK landmarks.
The top-scoring UK landmarks
Snowdonia National Park, Wales
Renowned for stunning scenery and breath-taking outdoor activities, Snowdonia in Wales steals the top spot for the most popular UK tourist destinations with a TripAdvisor excellent rating of 83%.
Whilst many people associate this tourist spot with climbing Snowdon, a feat achieved by over 500,000 people each year, there is much more to this national park than its mountain namesake. Over 10 million people visit Snowdonia each year to enjoy historic sites, white water rafting, walking and horse riding. You can also use the Snowdon Mountain Railway to reach the summit, which is one of the most beautiful train routes in the UK.
The national park is also home to rugged coastlines and sandy beaches, so it's no wonder Snowdonia takes first place as the top UK landmark.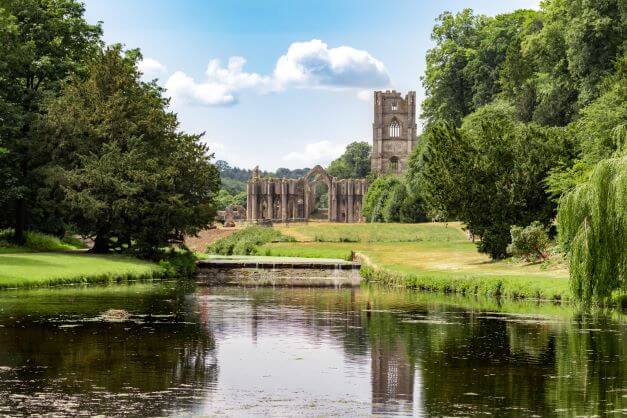 Highgrove House and Gardens, Cotswolds
The private home of Their Royal Highnesses The Prince of Wales and The Duchess of Cornwall, although the public can't access the house, this popular tourist landmark still features in our list of top UK attractions. The stunning gardens are open to visit from April – October each year and there are six separate inspiring highlights to see.
A visit to the Highgrove House property also includes access to The Orchard Tea Room and The Estate Shop. And with plenty to see and do in the pretty surrounding towns and villages of the Cotswolds, you definitely won't get bored on this UK landmark trip.
Fountains Abbey, North Yorkshire
A UNESCO World Heritage Site bathed in rich history, Fountains Abbey was established by monks in 1132. A visit here is more than just about seeing the ancient ruins; the Studley Royal Water Garden is a picturesque landmark of waterfalls and cascades.
Plus, a deer park featuring three different types of deer makes this attraction a magical must-see and hugely popular with children. With plenty for the whole family, a visit here is the epitome of northern Yorkshire beauty.
With a host of seasonal events at the abbey itself and local nearby activities, you won't be short of things to do and see on your visit to the monastery.
If these top picks have left you inspired to discover what other delights the UK has to offer, it might be time to plan ahead by booking your next UK escorted tours with Jules Verne.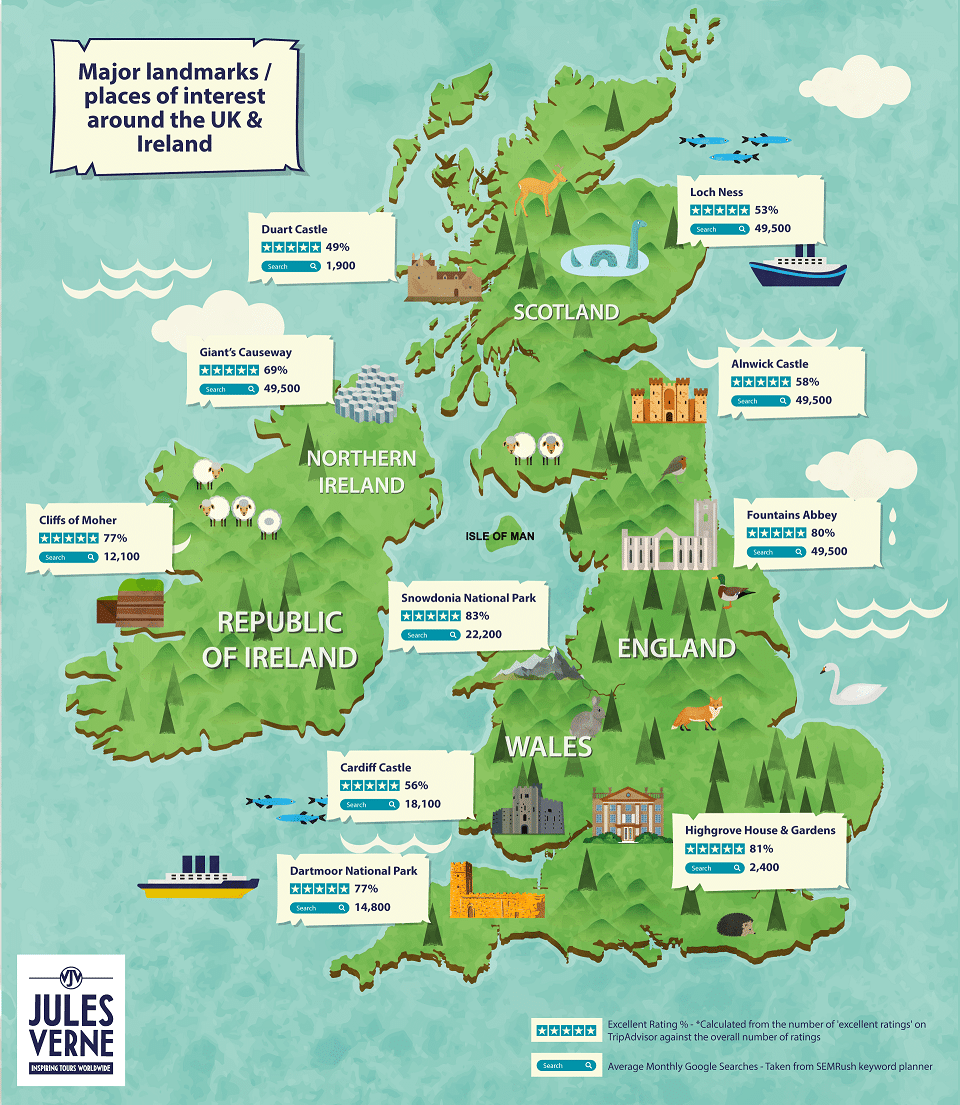 Dartmoor National Park
Dartmoor National Park is a beautiful spot to visit for anyone looking for some outdoor fun and to get close to nature. The moor's wild landscape is home to lots of different wildlife, including red deer, birds, and more.
Giants Causeway
The Giants Causeway is one of Northern Ireland's most popular tourist destinations. The site consists of forty-two, enormous columns of rock that extend out into the sea. It is believed that these stones are the remains of an ancient lava flow and it has been speculated that they were created by an ancient race of giants.
The UNESCO World Heritage site in County Antrim is a natural wonder run by the National Trust, and there are great coastal walks nearby including the famed Carrick-a-rede rope bridge and the Causeway Coast Route.
Alnick Castle
This historic country house, located in Northumberland, was built in the late 1600s and is now a National Trust property. It's not just an impressive building: Alnick Castle features a beautiful Italian garden and also boasts a two-story library.
Alnick Castle is open to the public and provides a lavish environment for weddings and other events in its vast ground.
Cardiff Castle
Constructed in the 11th century, Cardiff Castle is one of the most popular landmarks in Wales. Considered to be one of the most important Welsh castles, it's also one of the country's largest. It stands on a rocky hill and overlooks the River Taff.
The castle's history is long and fascinating. It was captured by William, Duke of Normandy in 1067 and was unsuccessfully besieged twice during The War of the Roses (1455-1487). Cardiff Castle has housed many notable figures including Owain Glyndwr, Elizabeth I and Charles I.
It also has some great views! The castle is open to visitors every day of the year except for Christmas Day (December 25th). Visitors can get more information about visiting Cardiff Castle on their website at www.cardiffcastle.com
Loch Ness
Named after the famous Scottish water monster, Loch Ness is the largest body of fresh water in the UK. The loch is more than 16 miles long and is surrounded by beautiful natural landscapes.
Visitors can learn more about this amazing creature at the Loch Ness Visitor Centre, which is located on the south side of the loch. Nessie, if sighted, would top the list of attractions at any top UK Landmarks.
Duart Castle
Duart Castle is located in the Isle of Mull and it is one of the most popular castles in Scotland. It was built in the 16th century and it played a key role during the Jacobite rebellion.