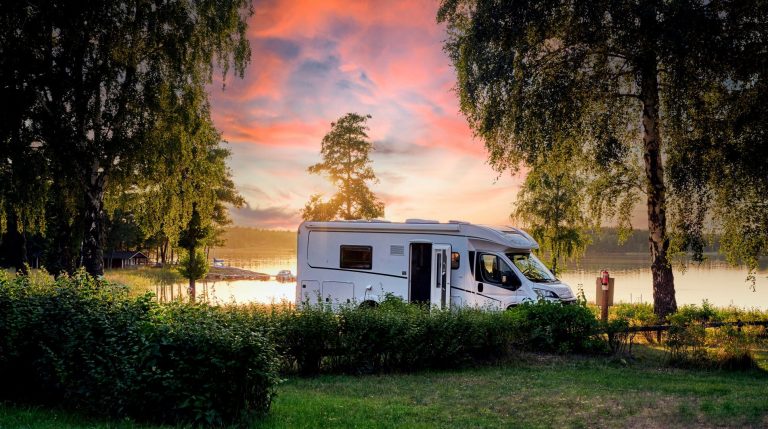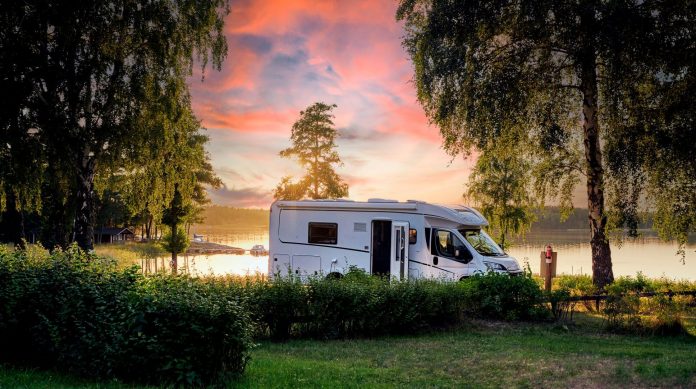 Last Updated on 29th August 2022
Imagine waking up each morning, having a cup of fresh coffee, and looking out across the lake/mountain/beach you parked wild camping near the night before. Maybe even starting your day with a swim immersed with nature.
You then consult the map, chart a course, and proceed to your next location on your road trip itinerary. All done in your own time, according to your schedule, in your own mobile home. This is the off grid van life, where spectacular views and beautiful beaches have a parking space waiting.
When you decide to tour Europe in a campervan for the first time, there is a high learning curve, especially if you have not been to the country before.
Preparing Your Van for Europe
Mainland Europe is a vastly different continent to the UK, rich with culture, history, stunning scenery, beautiful towns, cities, and the countryside. There are so many sites to visit that it boils down to preference. You must select how far and for how long you wish to travel. France, Germany, Romania, Spain, and Portugal are among the most popular European countries to consider.
However, you must look for the best campervans for sale to get the most out of your travel experience as you explore Europe.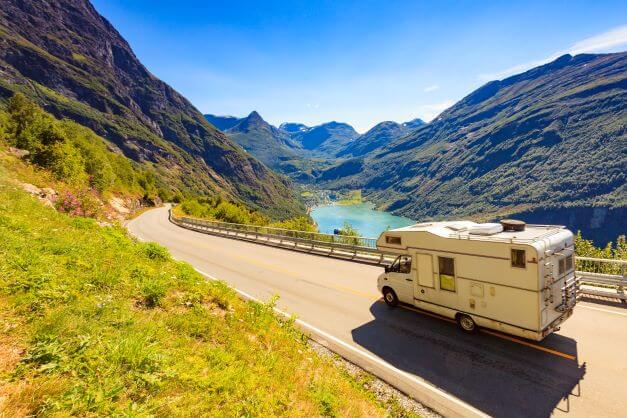 Purchase or rent? Which Campervan Should You Buy?
A campervan can be purchased or rented, and there are many models to select from. And we should distinguish between a campervan and a motorhome. Both are built on a van chassis, but a motorhome tends to wider and taller, with the Campervan smaller and thinner (think VW).
If this is your first campervan trip away or you only need a brief holiday, renting may be the best alternative. If you already have a passion and plan this as the first of many motorhome road trip, then purchasing is the best and cheapest alternative for you.
So motorhome or campervan? If you are undecided about which style to purchase or rent, I'd recommend travelling abroad in a compact campervan because it has many advantages over bigger alternatives or other forms of recreational vehicles. For starters, booking a compact campervan onto the ferry is less expensive and easier to drive in narrow roads.
Small campervans, with car-like fuel usage, will eat up the miles rather than the petrol. This is just one reason you can stretch your budget farther than larger models or two vehicles and caravan combos.
Another advantage of driving a tiny campervan abroad is that you should be able to drive in most places with low pollution zones if you have the latest Euro 6 compatible engine and navigate any busy city centre with less stress. If you've not hired a car in EU countries before, the cities are a pretty manic driving experience compared to the UK or Ireland.
Small campervans also pay less at toll booths on European highways. Tolls on European highways differ depending on the height and weight of the campervan you're driving, so if your camper is less than 2m tall (and less than 3.5 tonnes gross vehicle weight), it will be categorised as a light vehicle, just like a car (Category 1). This is especially true for mini campers like the famous Nissan NV200 Campervan.
Taller campervans of 2-3m in height (and less than 3.5 tonnes GVW) are classified as intermediate vehicles for the toll (Category 2). It doesn't appear to matter whether you have a long or short-wheelbase campervan.
Large campervans higher than 3m and weighing over 3.5 tonnes GVW are charged significantly more at European toll booths – more like trucks (Category 3). And the hefty twin-axle campervans are considerably more expensive (Category 4). HGV lorries that are more than 3m tall, have three axles or more and weigh over 3.5 tonnes. GVW is charged the most (Category 5).
So, if you want to visit Europe in style, invest in a tiny campervan and save money on ferries, tunnels, taxes, and petrol. You might also go green by purchasing an electric campervan, but this might not be so easy to charge in rural areas.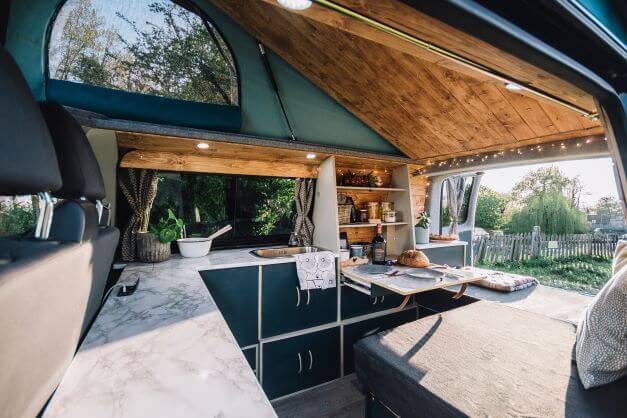 Checklist for a Campervan
Here's our drivers' checklist of what you should bring with you to Europe in your campervan:
Documentation is required.
Full UK driving licence (plastic is acceptable; no need for the old paper copy).
If you have an international driving permit, bring it with you. (Available at the Post Office for £5.50; it allows you to drive overseas whether you are in the EU at the time of your trip.)
V5c vehicle registration papers prove you own or keep your campervan.
The MoT certificate (for campervans over 3 years old).
Vehicle insurance policies. (Read the fine print to see which countries are covered and whether the coverage is all-inclusive or simply third-party fire, and theft.)
Green Card insurance policy. (Necessary outside the EU and provides peace of mind within Europe if we leave the EU while you are away.)
Documents on travel insurance (covers your health care abroad). If you are travelling within the Schengen Area, you should have travel insurance coverage, according to SchengenVisaInfo.
EHIC (European Health Insurance Card) (proves your eligibility for basic health care in the EU. We also recommend purchasing travel insurance.)
Passport – In the Schengen Area countries of Europe, you must have over three months remaining on your passport before it expires. It is simple to check the www.gov.uk website. At the time of writing, you can visit any nation in the EU Schengen Area without a visa for up to 90 days. This will change if Britain leaves the EU without an agreement. For example, Italy will need that you have over six months remaining on your passport and that you have sufficient finances to cover your travel. Britons would also have to use the 'non-EU' lanes at border passport control.
On the government website, you may get the most recent passport and visa requirements for each nation in the globe that you wish to visit.
Vehicle handbook, warranty, and service record so that you can go to the manufacturer's network of major dealers if you need warranty work done in another country. Depending on the vehicle that was transformed into your campervan, this may be Nissan, Renault, Volkswagen, Ford, or Vauxhall.
Insurance for vacations (to include healthcare).
The Post Office's EHIC card should give some reciprocal health treatment in European Union countries. However, it is not as good as travel insurance.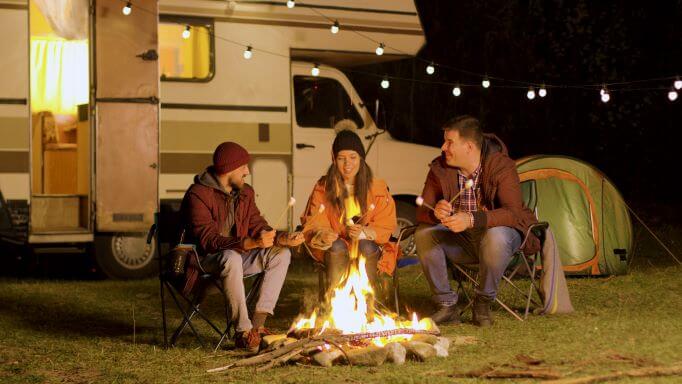 Practical Items Needed
Before you go, consider purchasing the following items:
'Beam bender kit or headlamp adjustments to avoid blinding oncoming traffic when driving on the right.
A breakdown warning triangle.
Everyone in the campervan should wear high-visibility vests or jackets.
First-aid supplies.
The fundamental toolbox.
Kit of spare bulbs.
Spare batteries and a torch (or a wind-up torch).
A portable fire extinguisher of small size (check the expiry date on it regularly).
GB number plate or sticker for your campervan's rear.
If you require glasses for driving, bring two pairs.
There are two breathalyser kits (just in case of checks).
Inflator for tires (plugs into 12V socket)
Jack, spare tire.
Using duct tape.
Adapter for LPG tanks (if you have a refillable gas tank).
GB sticker or number plate with integrated GB sign
Maps or GPS with current mapping for the area you're visiting.
Speed Limits for Campervans
Check the speed restrictions in each of the countries you intend to visit. Unless they are large coach built campervans weighing over 3.5 tonnes GVW, motor caravans may normally go at the same speed as vehicles.
The general speed limit for motorways throughout the rest of the EU is usually 120 km/h (74 mph) or 130 km/h (81 mph). On autobahns in Germany, there is no general speed limit, but a suggested speed of 130 km/h (81 mph).
When driving in Germany, it's preferable to overtake fast and then immediately return to the inner (right) lane of the autobahn. The speed limit on rural roads in the EU is usually 80 km/h (49 mph) or 90 km/h (55 mph), but on urban highways, it is 50 km/h (31 mph). While driving, keep an eye out for speed limit signs.
Campervan Overseas Insurance
Your standard vehicle breakdown policy may not cover you if you leave the UK. Check with your insurance provider and purchase new coverage.
Determine whether you require:
Coverage for a single holiday abroad in a campervan
Coverage for many vacations abroad in a campervan
Extended international campervan breakdown protection
Because breakdown insurance firms are constantly competing to offer you the best offers, the best suggestion is to research prices using a comparison website such as Gocompare. It's also worth looking into the specific coverage provided by the larger clubs. For example, the Camping & Caravanning Club provides 'Arrival' campervan breakdown cover in the UK and abroad, backed up by the RAC.
The Caravan and motorhome Club provides 'Red Pennant' worldwide travel insurance with a variety of options for you and your campervan.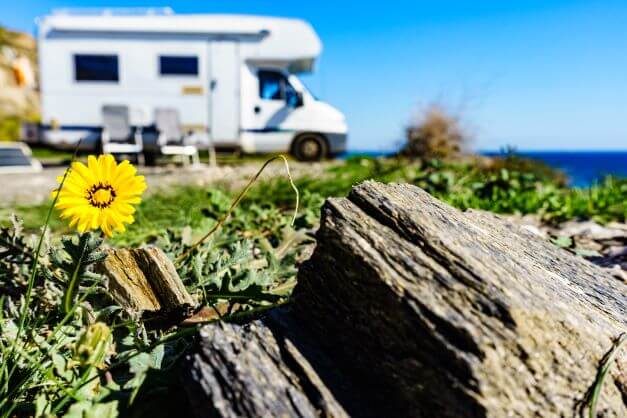 Before You Go and Tour Europe in a Campervan, get it serviced
You'll need to perform some basic car checks ahead of time or have your local mechanic perform a full service to ensure everything is in working order. Consider:
Check the oil levels and bring extra oil with you.
Examine the tyre pressures and tread.
Fill the screen, wash and check the coolant levels.
Final Words
Taking a campervan, or even a vehicle and caravan or trailer tent, on a Europe journey can be an incredible experience. You'll have the freedom to visit alternative places, venture off the main path, meet new people, and be more than just a tourist. And, with all the creature conveniences of home incorporated into a modern campervan, you'll wonder why you didn't take this type of journey sooner.