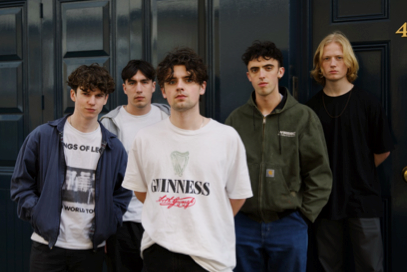 Last Updated on 11th June 2022
2022 has delivered a constant stream of good news for ascendant indie heroes The Native. The Plymouth-based quintet inked a record deal with rock 'n' roll tastemakers This Feeling who found success with Year of the Rat, which commenced with the release of the single 'Blindside'. While the track picked up radio play from John Kennedy at Radio X and BBC Music Introducing, the band were simultaneously hitting arenas over all the land as special guests to Bastille.
And there are more big developments for The Native, starting with the release of their new single 'Changes' today. Both 'Changes' and 'Blindside' lay the groundwork for the release of the band's upcoming EP.
'Changes' opens disguised as jangly indie-pop, but it soon detonates into the dynamic rush of its chorus. Charlie Noordewier leads the charge with his soaring lead vocals, while serrated riffs and pounding rhythms provide equal measures of ragged power and sweet melodies. The song's lyrics focus upon having the bravery to face up to a problem by making a change – it's a message of far-reaching relatability,  especially for those growing alienated by a seemingly never ending list of social challenges.
Charlie says,
"'Changes' is about breaking out from the mundane cycle of life that so many find themselves stuck in, and pushing back against the people that put you down for trying to do something different." 
'Changes' was produced by John Cornfield (Oasis, Muse, The Stone Roses) and mixed by the Grammy Award-winning Adrian Bushby (Foo Fighters, Muse, Everything Everything). It was written by long-term band members Charlie Noordeweir (vocals), Ben Andrew (guitar), Tom Booth (bass) and Harry Youngs (keys). The Native were recently boosted by the addition of drummer Fergus Segrove.
Charlie and Ben first met in secondary school in Plymouth, and released a debut EP leaning into introspective alt-folk. But after recruiting Tom and Harry and spending just one rehearsal together, they were thrust into an 8000 capacity hometown show opening for Bastille as part of MTV's Ocean City Sounds. A week after they finished their A-levels, they were already headlining the Plymouth Pavilions. Further shows and rehearsals saw the band take on a tougher edge, as heard on their self-released 2021 EP 'In My Mind'.
Now with growing acclaim and the backing of This Feeling, The Native are set to step up another level. They embark upon a UK headline tour next month, and then start a still growing summer festival schedule. Low Lying Sun support at all headline shows, and the London line-up adds The Florentinas.
"Stellar songwriting with a fresh appeal, The Native's work has transformed them into one of the country's most sought after new groups."
Clash
"The Native's reputation as indie newcomers is far behind them. Instead, they're now cementing their space in the indie sphere with lush guitar-infused mortar."
Earmilk
The Native UK Tour Dates
JUNE 
3rd – Exeter, Cavern Club (HEADLINE SHOW)
4th – Birmingham, Sonic Wave Festival
5th – Glasgow, Attic Bar @ The Garage (HEADLINE SHOW)
7th – Manchester, YES basement bar (HEADLINE SHOW)
8th – London, Camden Assembly (HEADLINE SHOW)
10th – Bristol, Louisiana (HEADLINE SHOW)
11th – Southampton, Joiners (HEADLINE SHOW)
16th – Isle of Wight Festival (This Feeling stage)
JULY 
21st – Truck Festival (This Feeling stage)
22nd – Leopallooza Festival
23rd – Chagstock Festival
24th – Gateways Festival
30th – Y Not Festival (This Feeling stage)