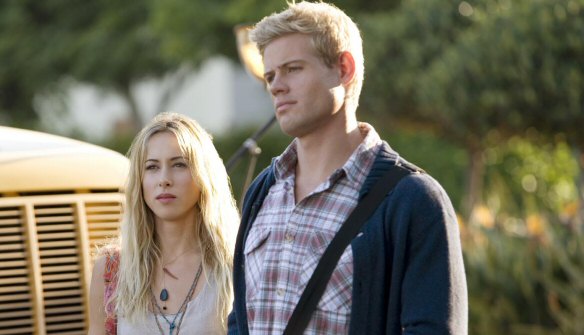 Last Updated on 15th January 2022
Continuing our theme of having well know types interview better known types (see Jess from GCC interviewing Daniel Merriweather) we asked ex Dolly Rocker and top friend of teentoday.co.uk Lucie Kay to interview star of 90210 Trevor Donovan. Hit "see more".
Unlike Jess, Lucie decided to continue in the familiar shambolic teentoday.co.uk style – failing to record the interview with either a dictaphone or pen and paper. Using just her memory we were originally presented with so few answers they would find a spacious home on a postage stamp, and were told "Its cos it wasn't recorded, just make stuf up!x". As fun as that sounds – and likely to be slightly more interesting – we asked Lucie to ransack her (rather small) brain and she returned with this, guaranteed to be factually inaccurate, set of answers. Many months of editing every other word to correct spelling, grammar, double spacing, excessive use of exclamation marks, names (we could go on) and here it is.
For those of you unfamiliar with Trevor Donovan, allow us to introduce you to the cheerleader of inappropriately aged actors over 30 playing high school students and the less-annoying and more-attractive addition to the cast of dramafest (and teentoday.co.uk's guilty addiction) 90210 (we're looking at you Ivy aka Ms Zinser). Read on for a rather mediocre interview that was actually more a mammoth flirting session (details conveniently removed before arriving in TT's inbox). Things around her never change do they. AS. USELESS. AS. EVER.
How does it feel to be the new guy on 90210?
I auditioned for a different role literally 2 weeks before the 2nd series started filming so it was all so quick, but everyone was very welcoming.
What would you do if you weren't an actor?
Well I got a degree in graphic design and used to be a personal trainer but hopefully I won't ever have to go back to that.
If you had to go on a desert island with one cast member who would it be?
*laughs, sounds a bit scared* Probably Gillian Zinser who plays Ivy. There's nothing romantic between us we just get on really well. She's really funny.
Is there any romance between the two of you? (Err no Lucie, he *just* said – Olly)
No, there really isn't. I wish I had some dirt for you but it would be weird to see anyone from the show get together. Especially when the break up comes, it would make it really awkward on set.
What's your favourite karaoke song?
The Charlies Daniel Band The Devil Went Down To Georgia. I really only sing this if I'm pretty drunk and my Southern accent comes out!
If you could be any other character in 90210 who would you be?
I think it would be fun to play the bad boy so probably Liam. I don't really look like a bad boy though which is why I never get the fun parts!
Before 901210 you were in Days Of Our Lives. Now, no offence but I really didn't think Days Of Our Lives actually existed! I thought it was just made up for Friends!
*laughs* yeah I get that a lot! It is kind of a cheesy show but were shooting so much as it's on everyday but with 90210 it's once a week. So i suppose that's why the acting maybe better! We don't have to rush.
Gossip Girl or Glee?
I absolutely love Glee. I've worked with a few of the cast from Glee before and they're all really nice. Gossip Girl I guess is our rival so I don't think I'd choose that would I!
What's on your iPod?
Linkin Park, Jack Johnson, John Mayer. When ever I get the time off I'm in the gym so it's mainly just songs I can work out too.
Hangover cure?
Either hair of the dog or a big greasy burger.
Perez Hilton is known for picking on the girls on the show about their weight saying they're too thin and all in competition. Is it similar with the boys and what do you think about Perez and celebrity culture in general. Does it scare or excite you? (Err… where did this come from?)
As far as i'm aware there isn't any competition with the girls, they're all very slim but they need to be for what they do, and as for the guys there we all just look after ourselves and don't compare ourselves to each other. The celebrity culture thing doesn't really scare me because I'm not at that level yet, I've never had a crazy fan or read false stories. I think people like Perez – actually help your career more than harm it.
Are there any English actors you admire or would like to work with? Robert Pattinson?
(Sounds quite offended at this) I really don't care about other actors careers right now, I just need to focus on myself.