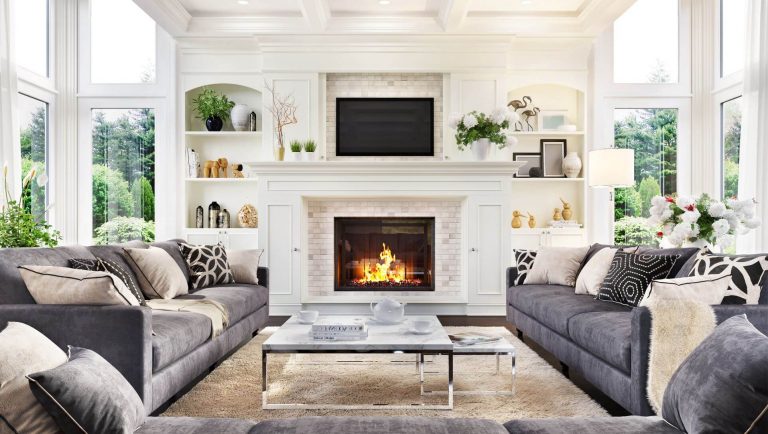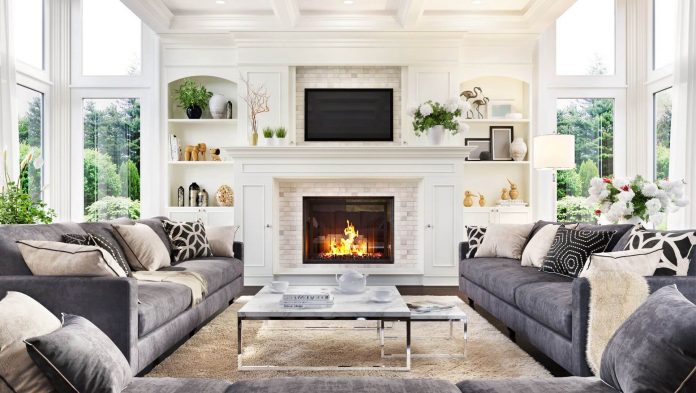 Last Updated on 20th October 2023
A Media Wall is the home decor trend of 2022 and should be part of any interior design plans if you are redecorating this year.  Feature walls are nothing new in a house, often on chimney breasts with standout colours or stylish wallpaper. But entertainment media walls are taking that concept further by making it the epicentre of the room, the central focal point for the TV and multimedia.
So what is a media wall exactly?
A mediawall is a media feature piece where your TV and other boxes are set within the wall, often with an electric fireplace underneath. These are bespoke built to hide all wires and cables, making it look more attractive. Often storage is built into the recess, with feature shelves and mood lighting. It's the ultimate in a clean and minimalist interior design aesthetic style, and frankly, no one likes a mess.
Most living rooms have a TV we all focus around, some with games consoles or sound bars that can also play music. In recent years, televisions were mounted on the wall, often above an unused fireplace. A TV wall is a next level for indulgence, using the space effectively for a stunning visual effect.
The best media walls incorporate drawers like a TV unit and feature shelving with mood lighting. And the key thing is these are custom built to use the available space in your home wisely. With a bespoke build, it will be full width.
How did the trend take off?
The recent pandemic meant we used our homes more, and DIY enthusiasts had time on their hands so started the trend. House renovators on Instagram and TikTok showed off their handy work and the UK fell in love. It's the ultimate addition to your luxury home furnishings.
The redundant space for the chimney was used to better effect with the help of a false wall, housing the electrics and boxes to hide them away. And electric fires with flame effects that danced made the room light up even with the TV off to make the lounge the heart of the home again.
Of course, in any living space, you could have a luxury media wall. For those that spend more time in their open-plan kitchen and dining room or even a playroom, this would also work.

What do you need to consider when designing?
Firstly, if renting you should speak to your landlord before undertaking this project as you may need to settle for a TV stand on a media unit with a standard feature wall. While you can easily put up a stud wall, it is hard to do this without causing any damage. But if you are the homeowner then it's all systems go.
There are things to consider though like if you are taking down an existing fireplace you will likely need to repaint and a new carpet. This also opens up questions about other upgrades you can do, including replacing the lighting, underfloor heating, improving the insulation or running any other wires in the cavity walls.
If the previous fire was from a gas supply, you will need a qualified gas engineer to cap this to ensure it doesn't leak. Also, you will likely need an electrician although some cable-box companies may move the points for you.
Also, while it is using dead space better, it will reduce the size of the room, so it is not ideal for small lounges unless designed as a snug.
It's worth pointing out that if you are no longer using your real fireplace, then this also opens up the opportunity to remove the chimney from upstairs bedrooms to give more space.
If you have children, then an electric fire is a great choice. Having heat settings is crucial when you have kids to keep them warm but safe from open flames and hot surfaces. They can produce realistic flame visuals without even heating the room.
TV size and speaker placement
Most lounges will want a big TV to be the centrepiece, but the size should be relative to the proportions of the room. While there are media wall designs that put fireplaces to the sides, it looks better to have the television central with soundbar and electric fire below, with shelves in the alcoves to the sides.
But this depends on the position of the chimney breast in your living room, as ideally, you want large sofas to be opposite the television for the ultimate viewing experience. It's also important to get the right placement for easy watching from different points plus the right height.
To get the floating look, most are placed on a TV bracket anyway, so it is possible to angle them as desired towards other seats or furniture. This also helps HDMI access, although cable extenders are available. The main benefit of using a wall bracket means you can pull the TV out so you can easily get to everything behind. Also, airflow is good to prevent electronics overheating especially if you have an inset electric fire below.
The flat screen TV can either be embedded flush with the use of a wall-mount, but specialist models like the Samsung Frame are an ideal option as designed to look like a picture when not in use. Just bear in mind that often the in-built speakers are at the back, so you will need an external speaker on the wall facing outwards. For surround sound you may need to work out best placement for that cinema experience.
Media boxes and connection points
It's likely that you will have either a Skybox, Virgin Media, another satellite box or use Freeview off the old-school roof Ariel even for a smart TV. These will need connection points or the cables will need to run long enough along the skirting board. A qualified electrician should be used for any rewiring.
And while it's great to have these boxes hidden away, infra-red remotes can't penetrate materials well, even plasterboard. So the easiest option is to have an extender that sits by the TV. Bluetooth remotes like Sky Q, however, would fare better.
The Wi-Fi router is another device tempting to hide away, but this will limit the signal and range. Drywall and hollow wood can still reduce the analogue signal by as much as 50%. There are extenders and mesh systems that will help, but it's just something to consider. Most TV's use smart technology and Wi-Fi, but you may find a direct ethernet cable from the router will mean uninterrupted streaming.
Games consoles like a PlayStation or X-Box often use Bluetooth technology for the controllers, but access is needed to change games. These might be better hidden in cupboards with push to open doors for the clean finish.
Cable management
Power leads and Ariel or AV cables can look unsightly and ruin the appearance, and it's worth planning this in advance plus considering any future needs. There will need to be channels drilled out of the brickwork or hidden in the recess structure. Either way, accessibility will be crucial.
This is why you need a qualified electrician, as they will need to ensure you have enough power sockets and not overload the circuit.  Also, don't discount getting a standard TV antenna added. The rising costs of Sky and Virgin have pushed a lot of people to use just streaming services like Netflix, Disney plus and Amazon Prime. But Freeview is best accessed via a roof Ariel rather than by Wi-Fi. It would be a lot more expensive to put it in afterwards.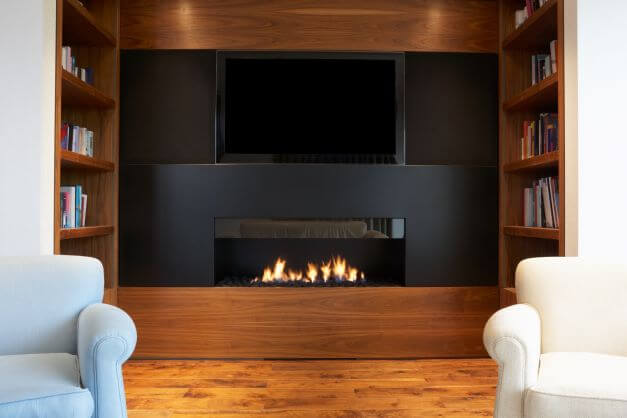 How much are media walls?
A lot can influence this, for installation and build costs factors are the size of the wall, complexity, and material, plus an electrician and gas engineer if there is currently a gas fire. If the job involves removing a stone or marble built-in fireplace, you would also need a builder and a carpenter, plus a plasterer, painter and decorator.
Location does matter too, as this would be more expensive in London than cheaper labour elsewhere in the UK.
Then you need to factor the cost of the TV and electric fireplace (if you are having one). It could cost anywhere from a £500 to £10k for bespoke media walls.
Media wall installation
It is possible to build a bespoke stud wall framework on top of the existing wall yourself if you are skilled, and then some integrated storage space around it.
but ultimately, a specialist would be experienced and do it faster and also be aware of common mistakes and pitfalls. It's always good to get a quote from multiple sources. Depending on the job, a carpenter may be able to do this all for you with wood.
An expert would also be able to work to the room measurements and not just the flat wall.