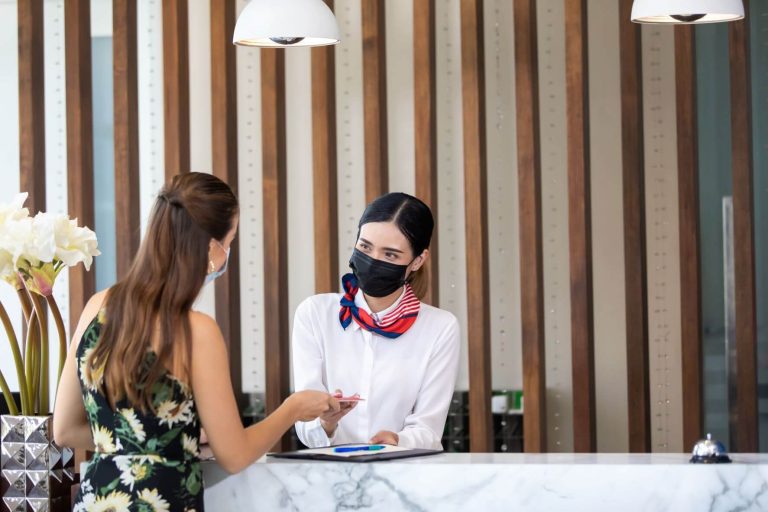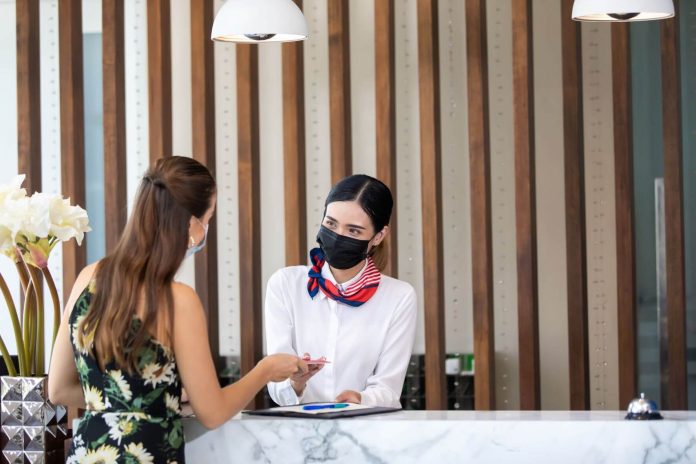 Last Updated on 22nd August 2022
Maintaining hygiene has always been a key responsibility for hotel owners, but the devastating effects of the COVID-19 pandemic laid bare the importance of PPE and good hygiene practices in the hospitality industry.
With the accommodation sector seeing a sharp decline in turnover and employment in 2020, it's more important than ever that hotel owners and staff follow proper hygiene protocols as business returns to pre-pandemic levels. Let's take a closer look at the importance of good hygiene in hotels for guest rooms, conference rooms, and business centres :
Why hygiene is particularly important in hotel management
If you're managing a hotel, you and your staff must follow proper hygiene practices. By maintaining good personal hygiene and sticking to clearly defined protocols when working in the hotel industry, you can increase productivity and profit whilst minimising the spread of harmful bacteria and illness.
Failing to maintain a clean, safe and healthy hotel (especially in terms of food safety and adhering to COVID restrictions) could affect your bottom line, pose a serious health risk, leave you liable for prosecution and see your business closed down. It is the hotel owners responsibility to train staff and ensure handwash monitoring solutions are in place.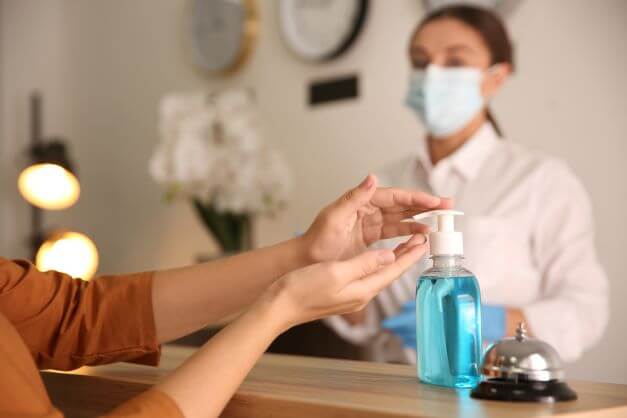 Wearing masks
While the wearing of facemasks may no longer be a legal requirement, it could soon be making an official comeback due to rising cases. Regardless of legality, facemasks have been proven to be efficient in reducing transmission rates whilst mask-friendly hotels can make vulnerable guests feel more comfortable in their stay.
Ensure that your staff have access to masks and the proper Personal Protective Equipment (PPE) for every task, especially when cleaning, preparing food or working in shared areas to help protect guests. All staff should disinfect work surfaces regularly, even if not key locations for the hotel guest's to avoid cross contamination.
Maintaining leisure facilities
Many hotels pride themselves on leisure facilities such as rec rooms, lounges, gyms, spas and swimming pools – it is essential that these shared areas are regularly cleaned and maintained to a high standard. This includes sanitising fixtures and equipment, establishing cleaning protocols and providing training for your staff on cleaning procedures to keep a high level of hygienic facilities for the hotel amenity users.
In particular, swimming pools can be a breeding ground for nasty bacteria, so ensure that you regularly use pool chlorine granules and clean communal pool areas to maintain good hygiene. Since the pandemic, it has also become increasingly important to regularly sanitise shared surfaces such as gaming screens, bars, tables and card readers.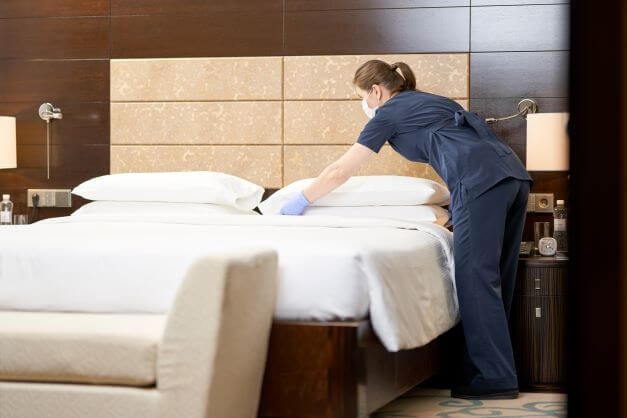 Rooms and housekeeping
Hotel cleanliness is crucial if you want to attract visitors, get good reviews and increase the likelihood of your guests making repeated visits. Aside from the positive effects on your bottom line, keeping guests rooms and hotel spaces clean (and providing the necessary training and PPE for staff) is essential for reducing the spread of bacteria and providing a safe and healthy working environment as well as high hotel hygiene.
Ensure that you provide a well-ventilated area to store hazardous chemicals, establish a clear cleaning and housekeeping schedule and provide training and supervision for staff in order to comply with Control of Substances Hazardous to Health (COSHH) guidelines.