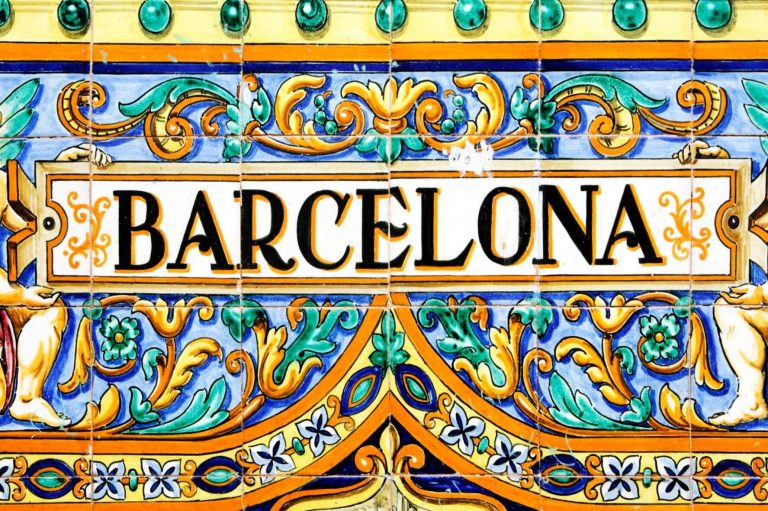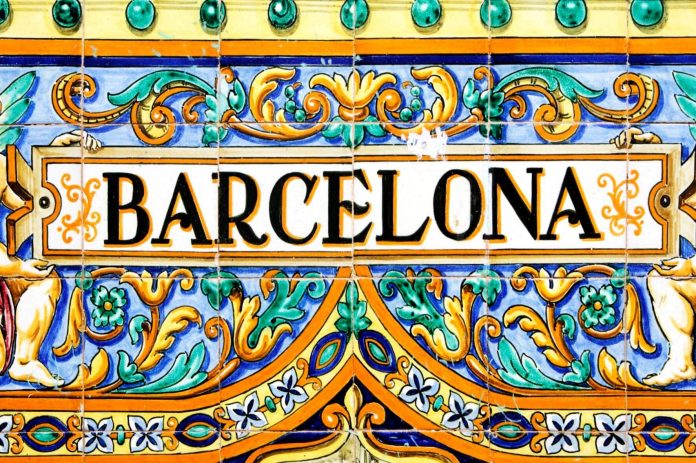 Last Updated on 3rd January 2023
You can stroll around Barcelona without a plan and see many important attractions and sights along the way.
It is an excellent approach if you are going to spend at least a week in the capital of Catalonia. But if you only have a few days at your disposal, you must create an itinerary and stick to it to ensure you see everything.
In this article, you will find more about places that left the strongest impression on me.
Most famous Gaudi's works
Antoni Gaudí is a Spanish architect, one of the most famous of all time. I would dare to say that no one has brought such a revolution in architecture as he has.
You will quickly realize this when you see his works scattered around Barcelona, each equally fascinating.
In order to list everything he bequeathed to Barcelona, I would need a whole separate article, so I singled out four that most historians agree marked his career.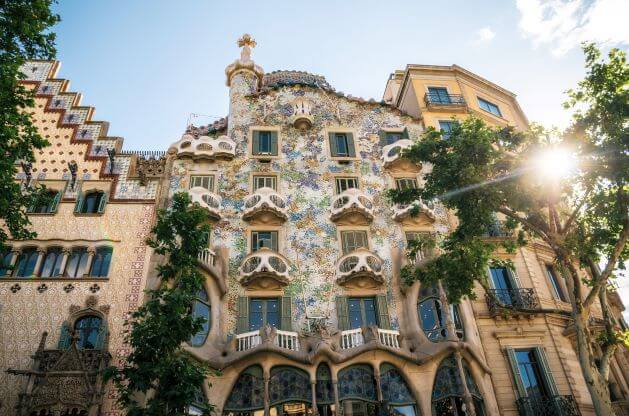 Casa Battló
It's almost impossible to scroll down through your Instagram feed and not see a photo of Casa Batlló at least once, usually at night. This mesmerizing building is known for its façade decorated with a colourful mosaic and unusual shape.
It looks even more attractive at night because of the lighting, but my advice is to see it during the day as well, so you can admire every detail. You can buy a ticket and visit it outside.
The interior is, of course, beautiful, but it cannot be compared to the exterior. If you didn't book your tickets online and don't want to wait in a queue that is usually very long, stop by the Casa Amatller.
Gaudí also built that building, which often goes unnoticed since it is next to Casa Batlló. It was built by the order of the wealthy chocolatier family, and even today, the chocolate shop is located on the ground floor. You have to try chocolate and other sweets there.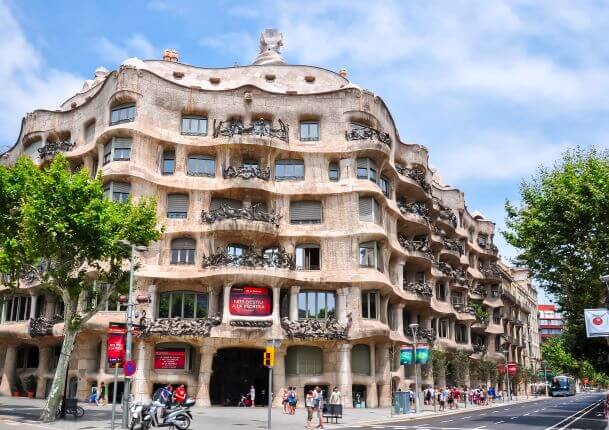 Casa Milà (La Pedrera)
Passeig de Gràcia is one of the major avenues in Barcelona. When you start from Catalonia Square down Passeig de Gràcia, you will first come across Casa Amatller and Casa Batlló.
Just a few blocks away is Casa Milà (La Pedrera). La Pedrera means "The stone quarry." It got its nickname for its specific appearance, in my opinion, no less attractive than Casa Batlló, and the only difference is that La Pedrera is not so colorful.
You must not miss the tour of the interior of Casa Milà. When you buy a ticket, you will receive a free audio guide that will guide you through the entire tour. Transmitters are located all around, so the audio guide will adapt to your current position.
First, you will climb to the roof, where you will see famous chimneys, and then you will slowly descend floor by floor. Along the way, you will see how Gaudí gets inspiration from nature for his architectural solutions.
In the end, you will pass through an apartment preserved in its original version to see how an upper-class family lived in Barcelona more than 100 years ago.
Sagrada Familia
Sagrada Família is the largest unfinished Catholic church. The plan was to be completed in 2022, exactly 150 years after the start of construction, but it was postponed to 2026 or beyond.
Although the exterior is not finished, the interior is and cannot be compared to anything in the world.
Once you step inside, you will feel that you have passed through a portal and are in another reality. It is impossible to describe, you have to see it.
The cranes certainly spoil the look of the photos, but you won't even notice them when you get closer and start looking around the facade, where you will see unusual-looking saints.
An unconfirmed version of Gaudi's death says he was hit by the number 30 tram while lying in front of the Sagrada Família trying to design another tower. It is necessary to buy a ticket in advance, otherwise, you will wait for hours.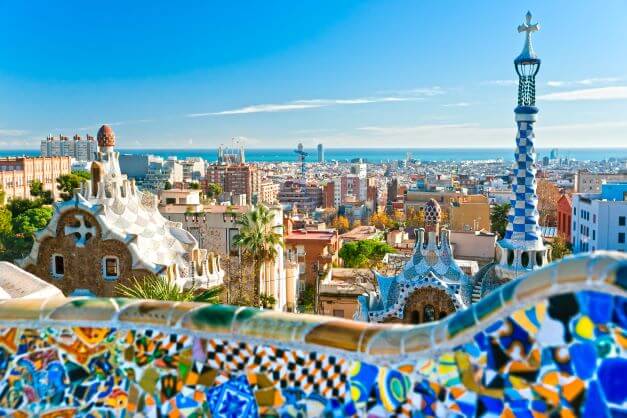 Park Güell
The first association with Park Güell is the Monumental Zone. The whole park is actually much bigger, and the entrance is free for all parts except the Monumental Zone.
Eusebi Güell financed this project, and it was up to Gaudi to build a self-sustaining neighborhood located in nature on the outskirts of Barcelona. This idea never fully became a reality, although even today, there are people who live on the territory of this park. One tenant was Gaudi, whose house you can see inside the park. The house is very modest inside, which fits Gaudi's Christian and almost ascetic way of life.
The mosaic salamander is one of the most famous things in this park, and you will also see the central terrace that used to be a market, bird nests, the Porter's Lodge, and much more.
Hospital de Sant Pau
Hospital de Sant Pau is a hidden gem. From the Sagrada Familia, take Gaudí Avenue, and in less than 10 minutes, you will reach this hospital built in Art Nouveau style.
Today, this is a tourist building and also houses some state institutions. Before visiting the Hospital de Sant Pau, I recently watched the series "The Knick" starring Clive Owen, which is why the whole experience was even more enjoyable. You can see what a hospital ward looked like back at the beginning of the 20th century, what surgical instruments were used, and what the underground passageways for transporting patients between wards looked like.
This is one of the first, if not the first, hospitals worldwide that separated patients by disease and had underground passageways.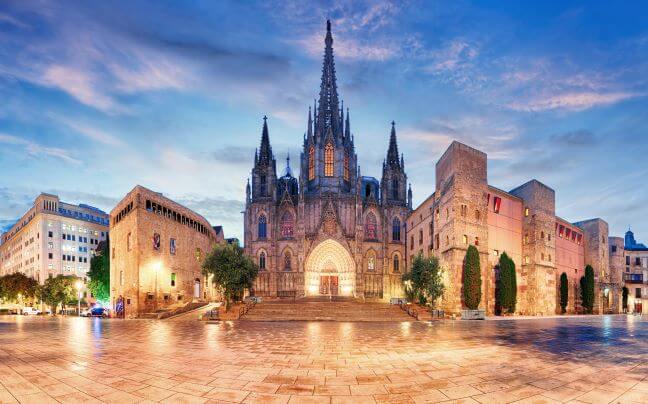 Gothic Quarter
You will certainly walk through the Gothic Quarter (Barri Gòtic) many times during your tour of Barcelona, but you should take the time to visit it in more detail.
It is the oldest part of the city, with buildings older than 2000 years, although most of them were built from the 13th to the 20th century.
The Royal Plaza and the Cathedral of the Holy Cross and Saint Eulalia, also known as Barcelona Cathedral, left the biggest impression on me in the Gothic Quarter. The restaurants in Plaça Reial do not have the best price-to-quality ratio, so it is better to stop by one of the restaurants on the side streets.
Käthe Wohlfahrt's Christmas shop is a hidden gem and the kind of shop you wouldn't expect to find in sunny and warm Barcelona.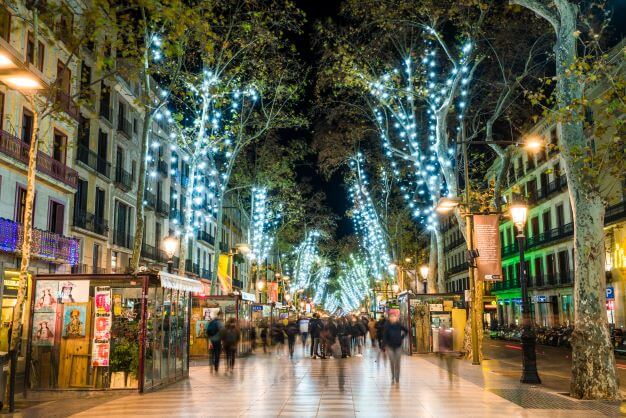 La Rambla
Rambla means wide street in Spanish, which is why many Spanish cities have a street with this name, but none is even remotely famous as La Rambla in Barcelona.
It stretches from Plaça de Catalunya to the port. It also borders the Gothic Quarter. It is usually very crowded, so be aware of many scammers and pickpockets.
But don't let that ruin your experience of this beautiful street full of history, food, and incredible sights. Just be wary of where you keep your valuables, but this is sage advice wherever you are.
Camp Nou
Camp Nou is a must-see not only for football fans. With a capacity of almost 100,000 seats, it is one of the five largest stadiums in the world and the largest in Europe.
It is the home of the Barcelona football club. Sports fans will surely love to visit the stadium on match day and watch the game, and everyone else can visit it on any day. It's a popular short break to catch a match and see the tourist attractions in Barcelona while there.
Like most stadiums today, Camp Nou offers you the opportunity to tour the locker rooms, the press conference room, and the field itself. The shop inside the stadium is stunning, and you will indeed have a hard time resisting the temptation to buy something.
You can buy tickets in advance or on the spot, where they are usually available, but I always prefer online purchases just in case and to avoid waiting in line.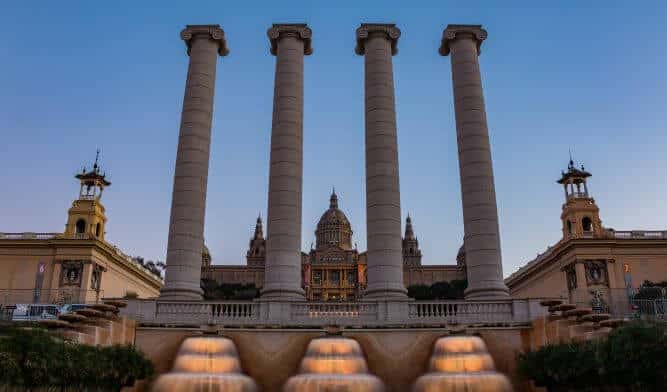 Montjuïc hill
In the southwestern part of the city is Montjuïc hill, which overlooks the harbour.
The Palau Nacional is the most important building in that part of the city, and the National Art Museum of Catalonia is also located there. If you take the metro to Montjuïc hill and get off at the Espanya station, you will first see the Arenas de Barcelona, once a bullring and today a shopping mall.
After visiting the Arenas de Barcelona, pass the Torres Venecianes and head towards the Palau Nacional. The Font Màgica de Montjuïc, the large Art Deco fountain, awaits you there. You can enjoy music, light and fountain shows for free on several evenings during the week. Check which days the shows are on because it changes depending on the time of year.
Poble Espanyol, an open-air museum built as a replica of a Spanish village, and the Olympic Stadium are nearby too.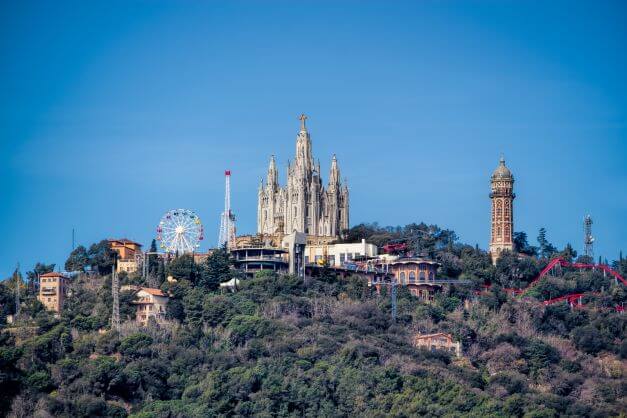 Tibidabo hill
The best panoramic view of Barcelona is from Tibidabo. It is a 512-meter-tall hill.
You will find the magnificent Sagrat Cor church at the very top of the hill. You can use the elevator and climb to higher parts of the church for an even better view.
The amusement park is right next to the church, so you can spend most of the day on Tibdab enjoying various activities.
There is a bus to the top, and you can also walk if you are okay with the steep path. You will ride the Tibidabo funicular part of the way, which is also an interesting experience.

Beaches
If you travel to Barcelona during the summer and most of the spring and autumn, you will spend a significant part of your time on the beach.
Few major cities have so many well-maintained beaches. Due to the 1992 Summer Olympic Games, Barcelona and Spain invested tremendous money in making the beaches another beautiful part of this city which stretch to neighbouring places like Lloret de Mar.
Barceloneta Beach is the most famous, and it is a vibrant place, but if you want to enjoy a calmer atmosphere, go to Bogatell, Nova Icària, or the nudist beach Mar Bella.
Here you will find cafes where you can have a drink or something to eat. The waves can be big, so even though lifeguards are everywhere, still be careful if going into the sea.
Boqueria Market
Spain is one of the favourite destinations of all gastro tourists. No matter which part of the city or country you go to, you will find delicious food and the perfect wine.
Barcelona is, of course, not an exception, on the contrary.
Before heading to La Boqueria, do not eat for at least a few hours. I made that mistake and went there full, later forcing myself to eat.
Boqueria is located next to La Rambla. When you enter, you will feel as if you have come to Hogsmeade, the village from Harry Potter – with many different colours, shapes, and smells. Whether you want something sweet or salty to eat or drink freshly squeezed juice, you will surely find what you want.
Conclusion
After visiting all these fantastic attractions, I am sure that Barcelona will become one of your favourite cities. It is simply impossible not to fall in love with this beauty.
Use the time to enjoy yourself and the city, not just run from one place to another. Barcelona is not a city for a hectic schedule but rather for relaxation and enjoyment.
If you have a few extra days, make sure to choose at least one day trip from Barcelona, and there are many.