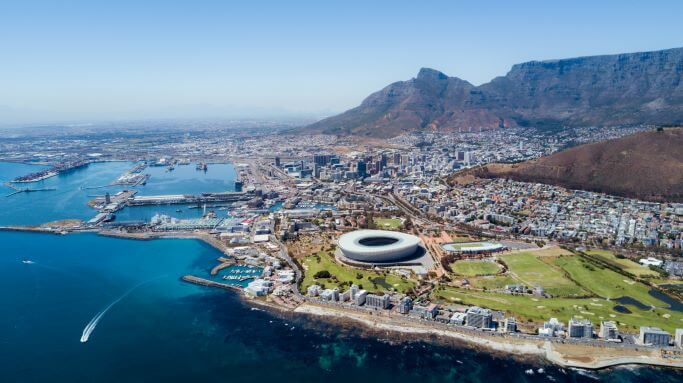 Cape Town is South Africa's oldest city. In fact, there's something in the city for everyone- from dramatic coastlines and natural landscapes, to colourful sights and hidden gems, the Mother City is full of Instagram-worthy spots.
Cape Town has even been listed 22nd among the "Top 50 Instagrammable Places in the World" beating Phuket and Ibiza. It's also one of three African cities to make the list.
Chapman's Peak Drive
There's no view in this world like the renowned Chapman's Peak Drive view. It's bound to leave you speechless and awe-inspired in the best way. Boasting 114 curves, a drive along this iconic road in Cape Town promises a truly memorable experience.
Photo-ops are plentiful, with Chappie's sensational panoramic views showcasing a rocky coastline.
Make the experience more magnificent and special by making it a sunset drive.
Chapman's Peak is positioned between Hout Bay and Noordhoek along the Atlantic Coast. Chappies is definitely one of the world's most spectacular marine drives.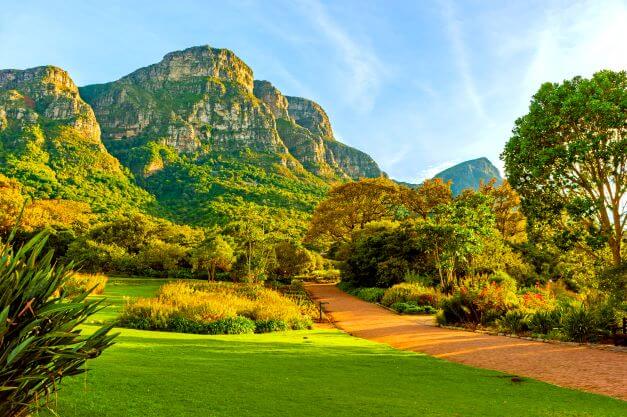 Kirstenbosch Botanical Gardens
You'll always find that Instagram-worthy shot no matter when you're visiting Kirstenbosch Botanical Gardens. Kirstenbosch is famous for its enchanting forest tree and its Boomslang walkway to get there.
You can easily spend an entire day walking around and taking plenty of pictures.
West Coast National Park
If you happen to be in South Africa in September, it's the perfect time to visit the West Coast National Park. 
Head out to a section of the park called the "Postberg" for some Instagram-worthy photos. White, pink, purple and yellow wildflowers are in full bloom.
Babylonstoren
Located in one of the most beautiful parts of Cape Town, Babylonstoren is a wine farm in Franschhoek Valley.
You can enjoy the two greatest things in life: wine and one of the city's best photo spots.
Babylonstoren has magnificent gardens which offer plenty of photo-ops. Their most popular section being the giant cacti maze.
There is a R20 entrance fee and the wine tasting is under R50.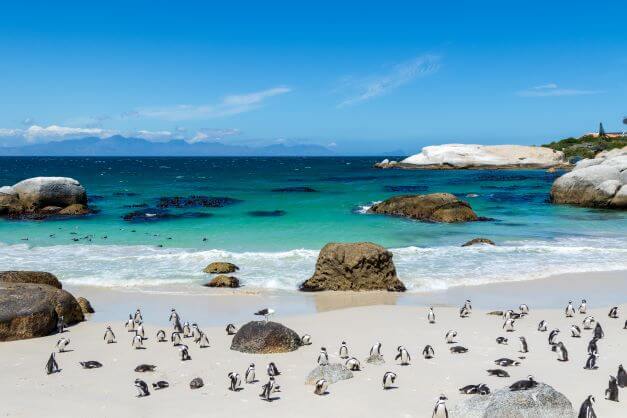 Boulders Beach and Penguins
Who doesn't love the beach? More so, who doesn't want to take photos and swim with penguins in the ocean? 
Entrance is just R50 and gets you access to a private beach, waddling penguins and a ton of Insta-worthy shots.
Hout Bay's Duiker Island and Cape Fur Seals
Hout Bay is home to the renowned Duiker Island and its growing colony of Cape Fur Seals, making it one of the city's most Instagrammable destinations. 
It's also the ultimate go-to spot for travellers and locals alike who are looking to experience the diverse marine life in Cape Town.
If you're feeling a bit more adventurous and daring, you can choose to snorkel with the Cape Fur Seals for an unforgettable experience.
Muizenberg Beach and Houses
Add some colour to your Instagram feed by visiting Muizenberg Beach. Muizenberg is all about its turquoise waters, white sandy beaches and its most attractive and colorful landmark: the tiny beach houses.
Painted in blue, green, yellow and red, the beach houses make for a great background against the backdrop of the beach.
Table Bay
Another epic way to get Instagram-worthy shots of Cape Town's views is to hire a kayak and paddle your way to Table Bay.
The best part is that you won't just experience the city's natural beauty, you will also have the opportunity to get up close with the marine life in Cape Town.
Sunfish, dolphins and whales are frequently spotted close to the bay, especially in the early hours of the morning.
Remember to bring a GoPro, or keep your phone in a dry bag while you're paddling.
The Two Oceans Aquarium
Find Nemo and his friends at V&A Waterfront's Two Oceans Aquarium. The 10 meter long tunnel and gallery or Jelly Fish gives you the opportunity to experience a variety of subtropical species up close and personal. 
The tank of Clown Fish offers the perfect photo-op as it has a convenient viewing pod for you to stick your head into.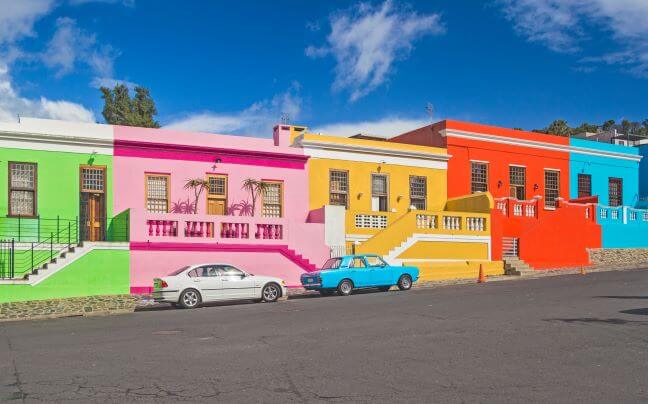 The Bo-Kaap
The Bo-Kaap is an area formerly known as the Malay Quarter. It's rich in history as it was a former racially segregated area. 
Bo-Kaap is also known to draw lots of its visitors with its eye-catching houses that line the hillside. Instagrammers come in search of the rainbow coloured backdrop, which with Table Mountain, makes for a stunning landscape.
Not a day goes by that Bo-Kaap isn't bustling with tourists looking to add some color to their Instagram feeds.
Established in 1844, the Nurul Islam Mosque is located in the area of the Bo-Kaap.
Woodstock's Street Art
Speaking of colour, Woodstock is an open-air art gallery. The area is known for being a street art hub, created by both local and international artists.
As you walk through the maze of streets, be prepared to marvel at massive murals at every turn and take hundreds of pictures.
St. George's Cathedral 
The oldest cathedral in Southern Africa is St. George's Cathedral. The cathedral has many picture-perfect spots with its beautiful stained-glass windows, gothic exterior, courtyard garden and Labyrinth.
Lion's Head
One of the most popular hiking spots in Cape Town is Lion's Head. The trail takes about 90-minutes and circles the mountain, starting off as an even and smooth path, and becoming tougher as you get higher.
Eventually, it gets so steep that you'll reach areas where you need to climb up a vertical ladder. 
It's best to hike earlier and enjoy the sunrise on your way to the top, rather than venturing up in the hot South African sun.
Kloof's Corner
An easier alternative to Lion's Head is Kloof's Corner. Or you could always do both. Kloof's Corner is a quick 20 minute walk that ends in a birds-eye view of Camps Bay. 

Signal Hill
One of South Africa's most popular paragliding spots is Signal Hill. At an elevation of just over 1,000 feet, strap in and run off the top.
Definitely an activity to enjoy by thrill seekers, the ride lasts between 7 and 20 minutes depending on the wind. 
It may seem scary at first, but gliding over Cape Town is quite a phenomenal and relaxing experience.
Robben Island
Today, Robben Island is a museum and world heritage site. Formerly, it was a prison. More specifically, one of the most iconic freedom fighters and former president Nelson Mandela was taken there. 
From the view of the prison site and Table Mountain, to the island-bound boat ride, you'll have plenty to meditate on and capture during your incredible experience.
Table Mountain
A gram on top of Cape Town's legendary mountain is what you need to complete your trip- or at least have a shot of Table Mountain in the background.
If you're not a fan of hiking, or you're afraid of heights, head to Blouberg Beach for sunset. It's the ultimate place for that iconic skyline shot of the city.
Final Thoughts
Cape Town truly has something for everyone, and you won't be able to stop spamming your Instagram stories and feed while you're there. 
The Mother City has captivating street art, delicious fresh eats, a lively nightlife, abundant activities, vibrant people and breath-taking scenery.
Watch out, you might just end up falling in love with Cape Town and never wanting to leave.