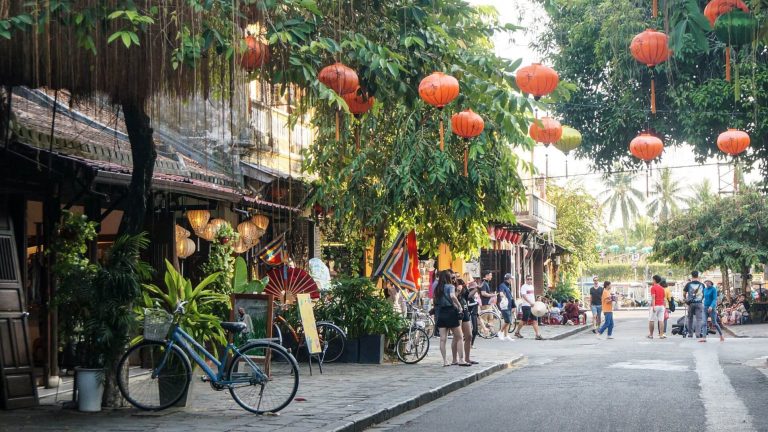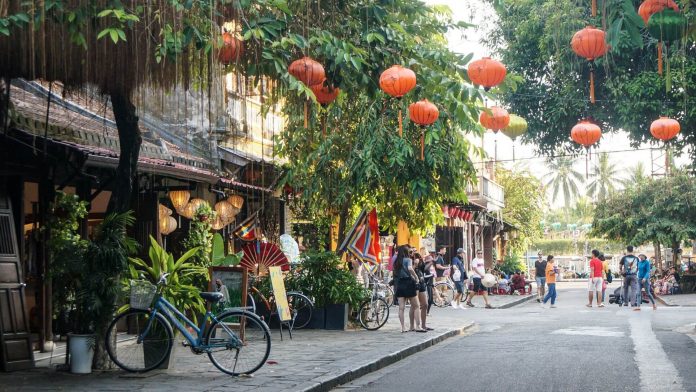 Last Updated on 14th May 2022
Hoi An is a city located in Vietnam's Quảng Nam Province. Hoi An was one of the most important trading ports in the South China Sea in the 18th Century. This magical city has captivated the imaginations of photographers and artists for hundreds of years.
Hoi An's architectural roots are a living memory of the European, Chinese, Korean and Japanese roots in the country. What makes it even better is that Hoi An is free from vehicle traffic and pollution.
Hoi An is so unbelievably magical that you'll want to photograph anything and everything. Here are some of the most Instagrammable spots that are guaranteed to add some unique colour to your Instagram feed.
Tra Que Vegetable Village
The nation's first organic vegetable village is Tra Que Vegetable Village, which is over 300 years old.  
You can take part in some farming activities such as picking the plants, watering them and preparing the soil. You can even rent a bicycle and cycle around the neatly planted rows of veggies and herbs for a relaxed experience.
Cooking classes are offered at the Tra Que Watering Wheel, which allows you to partake in all the above mentioned activities and more- fun!
To end the day and top it all off, go for a water buffalo ride. You can easily get over a hundred Instagram-worthy pictures here.
Ancient Town
The Hoi An Ancient Town is UNESCO protected and believe it or not, every nook and cranny is totally Instagrammable.
The whole town somewhat looks like an open-air art gallery, with its colourful bridges, quiet canals, markets, lantern-lit alleyways, fairy-tale-like streets, centuries-old tea houses and peaceful locals. It's hard not to obsess over Hoi An.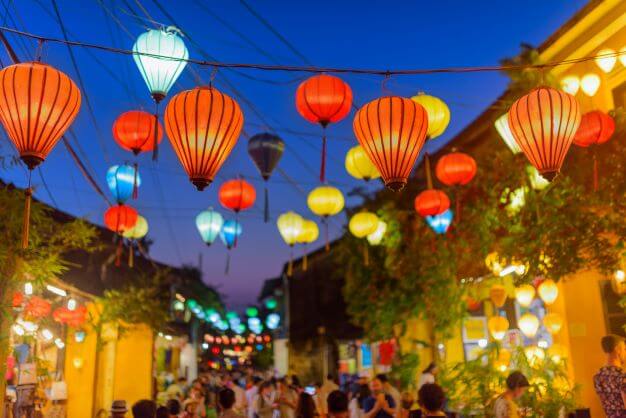 Signature Yellow Walls 
Hoi An is like a sunny fairy-tale; the whole city is yellow! Yellow symbolizes superiority and royalty in France, China, Korea and Japan- and each of these countries have left an impact on Vietnam.
In Vietnamese culture, yellow is a highly-revered colour that signifies wealth, happiness, prosperity and change.
It feels incredible walking through the yellow city, and the endless photo opportunities are even more incredible.
Temples of Ancient Town
The Ancient Town is home to several temples and sights, including the Chuc Thanh Pagoda, the pink gate of Fukian Assembly Hall and the Phuoc Lam Pagoda to name a few.
The Chinese temples were once used as Assembly Halls by the Chinese government, and they date back to the 18th century.
One of the most famous temples in town is the Miếu Thời Khổng Tử (Confucius Temple). You can only admire the beauty of this temple from afar, as entering the temple is not allowed.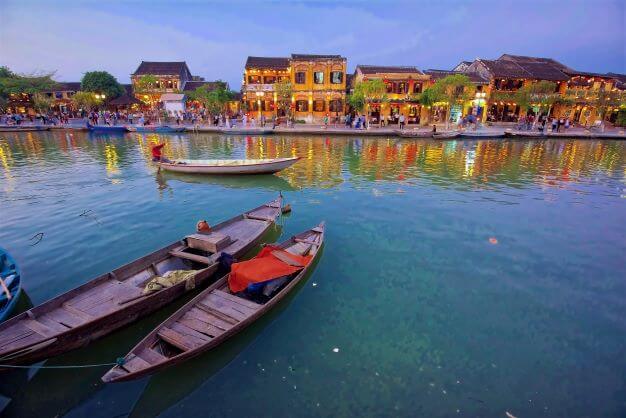 Thu Bon River
Hoi An's Thu Bon River is well known for its romantic sunset boat rides. The reflections of the city lights and lanterns in the water make the experience even more magical.
Take a walk by the river and find an empty spot to take the ultimate Instagram shot.
Japanese Covered Bridge
Vietnam's most famous attraction dates back to the 16th century: the Japanese Covered Bridge. The bridge is painted in red with a wooden pagoda roof, and is about 60 feet in length.
It's claimed that the bridge was created by the Japanese living in Hoi An as a way to reach the Chinese Quarter across the water.
Tran Vo Bac De is a temple on the north side of the bridge, which was dedicated to the Taoist God of weather. Locals pray here often to stave off any impending natural calamities.
Hoi An Museum
If you're interested in learning more about the history of Hoi An, then you need to visit Hoi An Museum. 
The museum is home to a large variety of pieces that tell the story of the area, including antiques dating back to the Colonial period and Cham period.
There are also a number of galleries and signature pieces in the museum, like large bronze temple bells, paintings, ceramics, drawings and photographs.
Hoi An Silk Village
If you want to get outside the city and check out Vietnam's ancient weaving techniques, Hoi An Silk Village is the place to be.
The Silk Village is located around 1 kilometre from the city centre and is surrounded by a quaint village of traditional homes.
The village is home to artisans who will teach you how to make beautiful silk pieces. Not only that, you can also feed the silkworms and help to unravel their cocoons.
This is also a great place to buy some traditional silk pieces as souvenirs and gifts.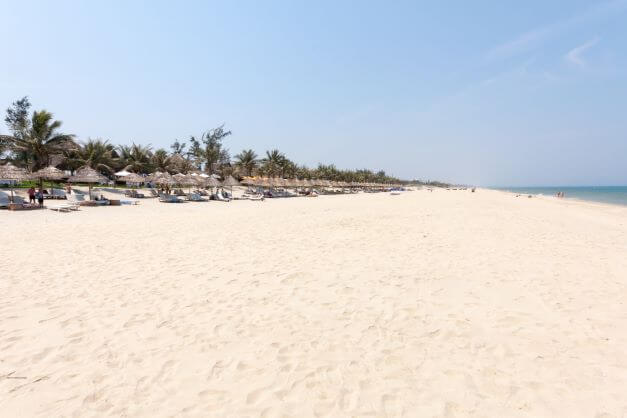 An Bang Beach
Hoi An has a number of beaches, but locals will tell you that An Bang is one of the best around.
An Bang beach is one of the best beaches in Hoi An. It's less crowded than many of the other beaches, and is decorated with white sand, clear water, sun loungers, palapas and restaurants.
The beach is lined with trees and is the perfect place to be whether you want to go for a swim or just relax in the sun. Lounge chairs are free to use if you buy something, otherwise they cost between 15,000 and 40,000 VND.
The beach offers stunning views of Cham Island, Marble Mountains, Da Nang bay and Da Nang.
Nipa Palm Forest
The journey to the Nipa Palms is one you'll never forget. The peaceful retreat, along with being surrounded by beautiful foliage and large palm trees is like a moment out of a book, or a movie.
As you cruise through the quiet waterways on a paddleboard, kayak, or traditional bamboo basket boat, enjoy the relaxing sounds of the trees blowing in the wind and the water. Every so often you'll see motorboats and fishermen returning home. You'll also get to see An Hoi's wildlife up close and personal.
Whether you stay for an hour, or for the whole day, it will feel like an everlasting eternity of serenity.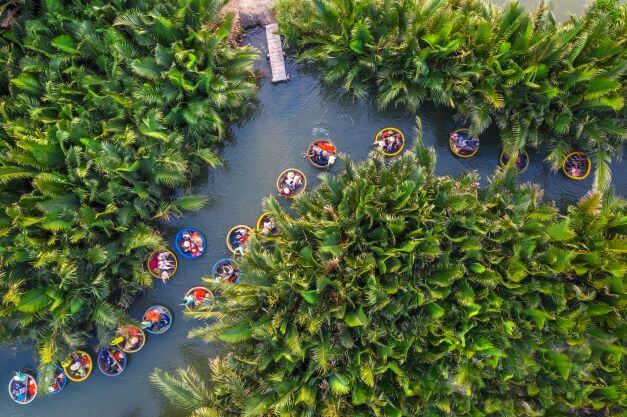 Rice Fields
You can't visit Hoi An without visiting the rice fields, and the city has an endless amount of them. Rice is an integral part of the Vietnamese culture. In fact, Vietnam is the 7th largest consumer and the 4th largest exporter of rice.
So go ahead and capture some of your best Instagram shots in the rice fields of Hoi An.
Final Thoughts
There is magic around every corner in Hoi An. You just need to find it. Hoi An is an intoxicating blend of diverse landscapes, fascinating architecture, ancient culture and delectable cuisine. There's so much to do and see in this compelling and historic city.