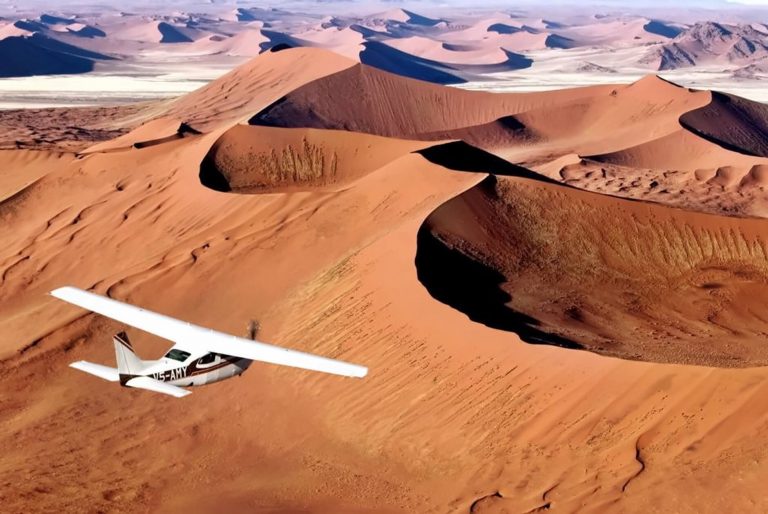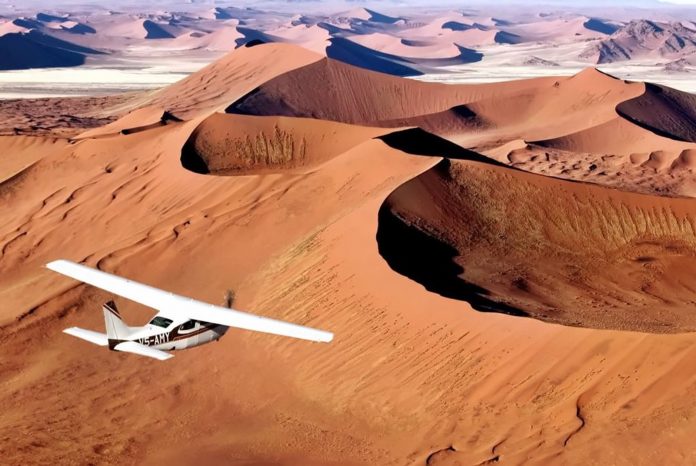 Last Updated on 3rd January 2023
In the post-Covid travel era the allure of an African safari adventure has never been greater.
The opportunity to immerse yourself in the natural world, explore spectacular sights and interact with fascinating wildlife provides the perfect antidote for those seeking to escape from their hectic, and sometimes stressful, lives at home.
From Botswana to Tanzania, South Africa to Namibia, the continent of Africa is home to a surfeit of incredible destinations that you should visit in your lifetime, giving rise to the tricky question: which destination should I visit if I want to book a safari getaway?
You may also be surprised to know that safari trips and tours to Africa are just as varied as the technicolour landscapes of the iconic Serengeti. Self-drive safaris, private guided safaris, and fly-in safaris each have their own unique advantages, and the type you might opt for really does depend on what you to get from your safari adventure.
For the purposes of this post, we're going all out and focusing on arguably the most luxurious option, fly-in safaris. We're also going to hone in on a country sometimes to referred to as 'the soul of Africa': Namibia, a place where majestic landscapes, fascinating nomadic tribes and opulent lodges reign supreme.

Fly-in safaris: What you should know
As touched on above, there are many popular safari types including self-drive safaris that empower you to explore a destination at your own pace and private guided safaris, where you'll travel in the company of an experienced local guide.
Fly-in safaris differ in that instead of travelling between A to B by road you'll be transported by light aircraft. Flying between destinations, particularly in a vast country like Namibia, offers many advantages, not least giving you more time to enjoy plenty of incredible excursions and relax in the comfort of your plush safari lodge.
Namibia Fly-In Safari: The Pros
With so much to see and do in this incredible country, saving valuable transportation time is a huge plus but that's far from the only benefit of a fly-in safari.
From the Fish River Canyon, the second biggest canyon in the world, to the sprawling Namib Dessert, the planet's oldest desert, Namibia is blessed with a strikingly beautiful array of natural landmarks and the best way to appreciate these sights is by air.
Some regions of Namibia are also incredibly remote and sometimes the only way to reach them is by air. Booking a fly-in safari opens up endless possibilities, you'll never be restricted by where a car simply can't go.
If you're considering heading on a Namibia safari to celebrate a special occasion such as a honeymoon, you'll also pleased to know that fly-in safari flight types include the option of privately chartered aircrafts, promoting that feeling of exclusivity.
Shuttle flights, which can be thought of as a flying taxi, are also available. This option could work well if you're based in popular regions like the Sossusvlei and you want to get to Etosha National Park for example.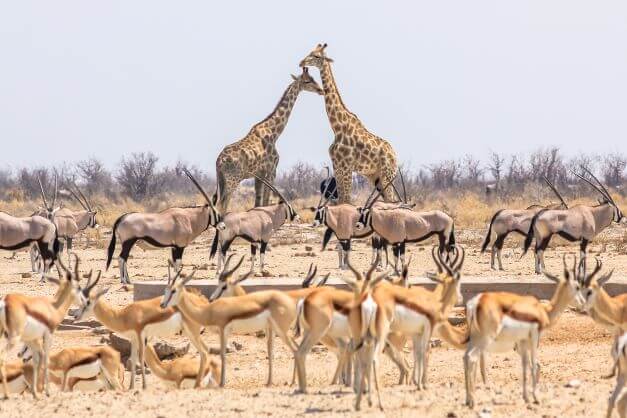 Namibia Fly-In Safari Excursions & Activities
Although gliding over Namibia's majestic landscapes is a thrilling activity in itself, there are plenty of other exhilarating pursuits and excursions that you can enjoy as part of a Namibia fly-in safari holiday.
No visitor can head to this remarkable Southwest African country without witnessing the nation's abundant wildlife and one of the most popular places to do this is Etosha National Park.
Etosha translate to 'Great White Place' and this stunning area is dominated by a vast mineral pan. Amongst the arid land you'll find lions, elephants, rhinos, leopards, as well as plenty of marvellous bird species. In the dry season the wildlife congregates around the last remaining waterholes, making them easy to spot and it truly is a sight to behold.
Away from Etosha, adventurous travellers may be inclined to enjoy a spot of hiking and the epic sand dunes of the Sossuvlei offers climbing opportunities a plenty. The aforementioned Fish River Canyon is also a fascinating place to explore if you're an adrenaline junkie; navigate cliffs and rock faces as you meander through this gigantic natural wonder.
Complimenting its many impressive natural landmarks, Namibia is also home to several charming cosmopolitan towns and cities. Depending on your itinerary, you can be whisked in your aircraft from Sossuvlei to the charming city of Swakopmund in no time; here you can stroll around seaside promenades, stopping to enjoy a cup of coffee and a bite to eat.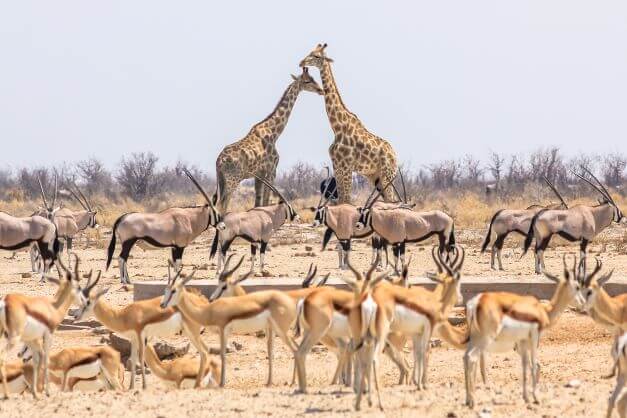 Namibia Fly-In Safari Accommodation
Fly-in safaris tend to be the epitome of luxury and this sense of grandeur and opulence generally extends to accommodation options too; you're hardly going to spend your days in a luxury privately chartered plane only to sleep in an exposed tent!
Popular luxury accommodation options that form part of many Namibia fly-in safari itineraries include the stunning Little Kulala- a camp nestled within the private Kulala Wilderness Reserve.  Here you'll stay in one of 11 climate-controlled luxury villas, each boasting a plethora of luxury amenities including plunge pools. Little Kulala guests can even opt to sleep in a private rooftop sky bed, is there anything more romantic than dropping off beneath the shimmering stars?
Damaraland camp, set in Huab River Valley, is another opulent choice. During your stay here you'll catch some shut eye in the comfort of a gorgeously decorated thatched chalet, whilst the living area houses a restaurant, bar and many other contemporary amenities. In the winter there's a roaring fire that adds to the ambience whilst an all-year-round outdoor pool offers the perfect opportunity to cool off in hotter months.
Alongside all the amenities you could wish for, all of the luxury camps and accommodations choices that are synonymous with Namibia fly in safaris serve up first-class cuisine, including many popular European dishes, a big relief for picky Brits. Also expect around-the-clock room service and staff that will go out of their way to try and source your favourite beverage!
When to book a Namibia Fly-In safari?
Namibia is an exceptional place to visit all year round so the best time of year for a fly-in safari can be subjective. However, many travel specialists suggest that the best time to travel is between July- October, when the temperatures are warm, but not too hot, and the chance of lots of rainfall is low.
July-October tends to be the peak season-and the best time for wildlife viewing- so it's advisable to book and plan well in advance if you want to travel during these months.