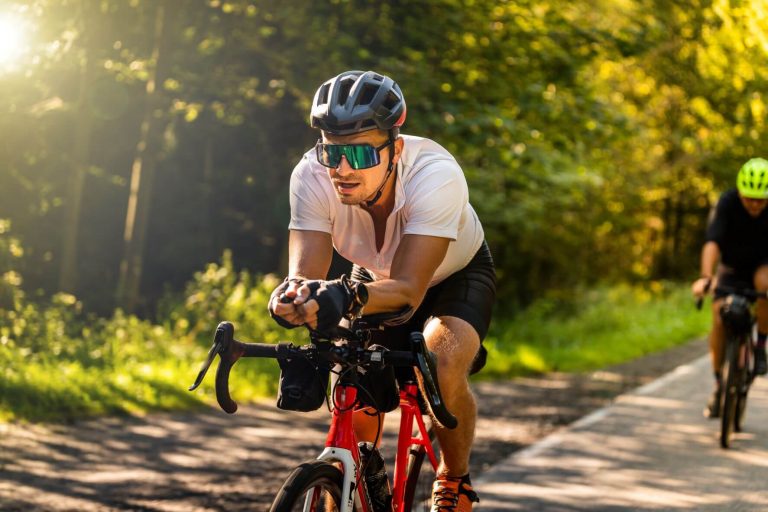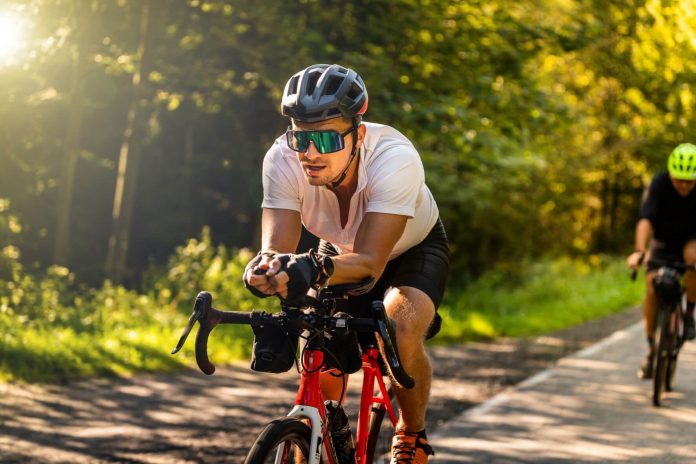 Last Updated on 2nd November 2022
If you wear glasses and are a cyclist, then prescription cycling glasses are a necessary piece of kit for you. Wearing your regular glasses when cycling just doesn't cut it, so we have come up with some helpful insights into prescription cycling glasses and why you should be wearing them.
Benefits of Cycling Glasses
Cycling sunglasses are designed so you can see every detail on the road even in bright sunlight. They protect your eyes from frequently changing light conditions as well as wind, insects, and debris flying at your face plus prevent fogging.
The lenses in bicycle eyewear are shatter-proof, extremely durable and a secure fit which are important for safety when cycling. They help protect your eyes from harmful UV rays, minimise glare from the road and improve contrast and depth perception. All of these are a priority when you're cycling.
Bike glasses frames are made with high-quality, materials such as polycarbonate making them a lot sturdier than regular glasses, and less likely to break if they're hit by something or knocked to the floor. They are also super lightweight and aerodynamic to provide maximum comfort and enhance your performance.
Cycling Glasses Features
Cycling-specific glasses are manufactured with strong frames that are typically larger and wider than regular glasses. They are designed to wrap around your head, giving better eye coverage particularly in the peripheral areas, and to ensure superior vision quality.
The side arms on cycling glasses are designed to fit perfectly under your helmet. They are minimal and fit snugly around your temple just above your ears, with rubber grippers to keep them in place. Cycling eyewear also come with adjustable, protective nose pads to help keep your glasses secure, even when riding on bumpy terrain.
There are a variety of lenses available for sports eyewear that will enhance your cycling experience. These include polarised or photochromatic lenses, where the tint automatically changes depending on the level of light. These are a great choice for when you are cycling in interchangeable light and will also enable you to identify risks in plenty of time.
Lens coatings are another feature of cycling glasses that help with vision clarity. An anti-fogging coating prevents your glasses from steaming up in extreme weather, and a hydrophobic coating repels water, oil and dirt and prevents grim build-up on the surface of your lenses.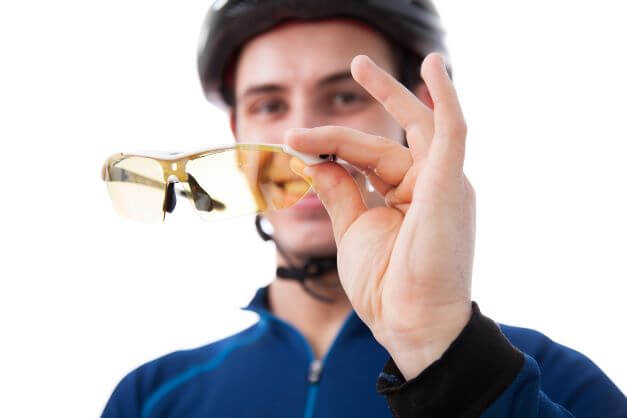 Buying Prescription Cycling Glasses
The frames you choose need to accommodate your prescription lenses. Some cycling glasses come with an interchangeable prescription insert that is fitted behind the actual lens.
You also need to make sure that your glasses fit your face properly. They need to feel comfortable and must be secure on your face to maintain precise optical alignment.
It is advisable to get a lighter coloured lens for when you are cycling so you are able to see any uneven road surfaces or obstacles clearly. Dark tints may cause you to miss things and reduce your reaction time.
Summary
Prescription cycling glasses are a superior choice for several reasons including safety, eye protection, and comfort. Cycling eyewear is available in a wide variety of shapes, styles and colours, meaning you don't have to compromise on fashion for the sake of practicality. Because of their strength and durability, a pair of professional cycling glasses should last you for many years making them a worthwhile investment.