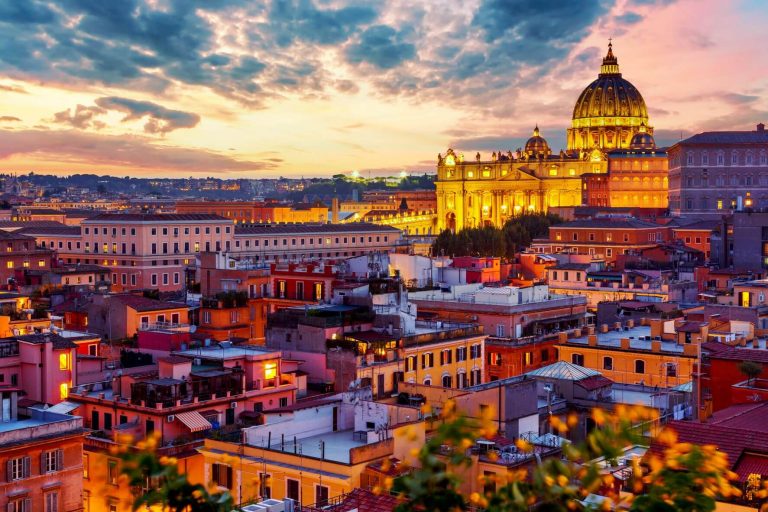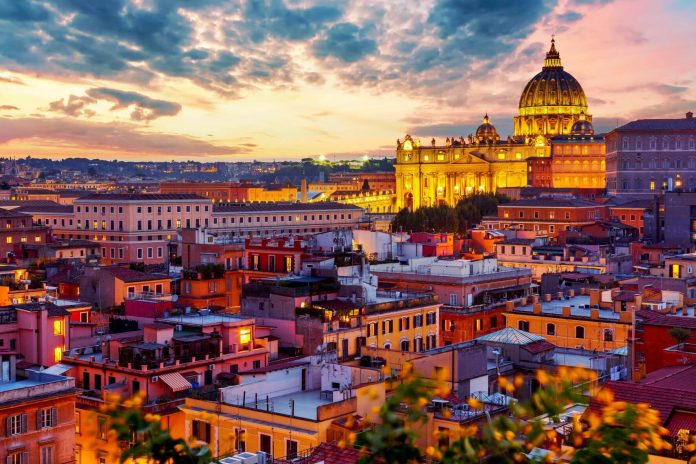 Last Updated on 20th October 2022
"Travel is useful, it exercises the imagination. All the rest is disappointment and fatigue."
Louis-Ferdinand Céline conveys those wise words to us in his first novel Journey to the End of the Night.
The legendary Italian director Paolo Sorrentino begins his Oscar-winning film – La Grande Belleza with that quote. And the title of the movie is a true description of Rome – Great beauty!
The whole world knows about the Colosseum, the Vatican, and the Pantheon. These are certainly must-visit places, but Città Eterna has much more to offer.
I'll take you on a little walk from one hidden gem to another.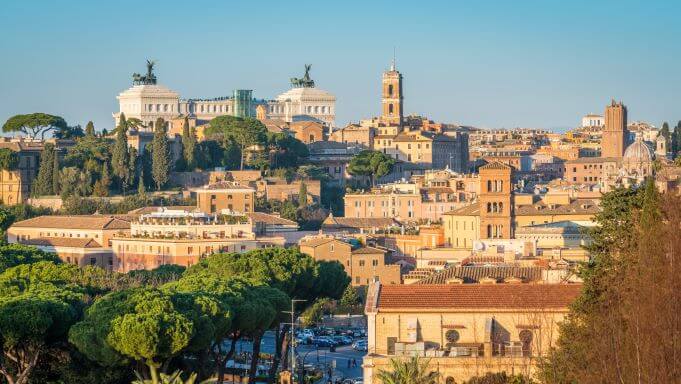 1.     Giardino degli Aranci
The Orange Trees Garden is one of the most beautiful parks in Rome. And if you ask me, maybe it's the most beautiful.
It is located on Aventine Hill, and from this park, you have a perfect view of the Tiber, St. Peter's Basilica, and the rest of Rome.
You can make amazing panoramic photos for your Instagram profile when you reach the end of the park.
But that's not all. Although the Giardino degli Aranci is not large, you will enjoy spending at least half an hour sitting in the shade of cypress trees, surrounded by oranges. The smell is divine in the spring when the orange trees are in bloom. Of course, you can eat one.
Make sure you don't miss seeing the fountain on the outer wall of the park.  For fans of La Grande Belleza that's the place where Jep Gambardella washed his hands after a night out at the beginning of the movie.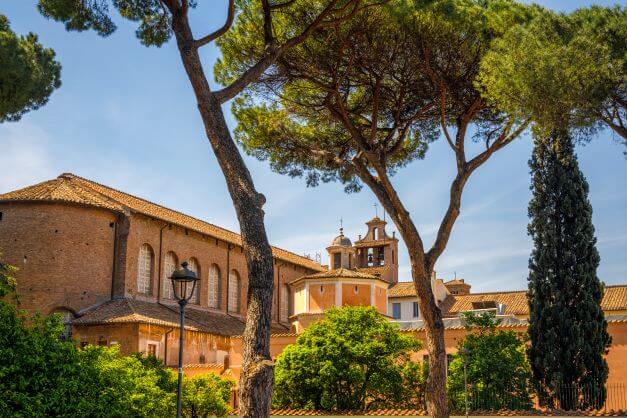 2.     Santa Maria Addolorata a piazza Buenos Aires
As you walk from the Giardino degli Aranci to the Knights of Malta Keyhole, which is a very short distance, you might overlook the Basilica di Santa Sabina all'Aventino.
You should definitely stop and admire the exterior of this church before going inside. It is the oldest still existing basilica in Rome that preserves its original colonnaded rectangular plan.
The Basilica of Saint Sabina is over 1500 years old, dating back to AD 432.
Between Santa Sabina and Keyhole there is another park – Giardino Storico di Sant' Alessio. Even though it is not as attractive as the Orange Trees Garden, it is well worth your time.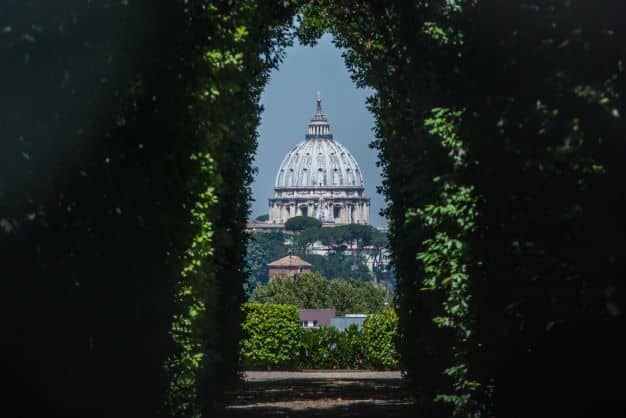 3.     Knights of Malta Keyhole
I guess no one can remain indifferent after looking through the keyhole.
You will have to stand in a queue, which is usually quite long, but the wait rarely exceeds half an hour.
Once it's your turn, you can approach the gate and look through the keyhole. You will see the dome of St. Peter's in the distance and right behind the gate is the garden of the headquarters of the Knights of Malta on Rome's Aventine Hill.
Despite the fact that you will have to wait half an hour just to look through the keyhole for a few tens of seconds, the view is breath-taking and that's why I never miss going to Piazza dei Cavalieri di Malta when I'm in Rome.
If you have a state-of-the-art smartphone or camera, you can make great photos. Otherwise, the photo will be blurry.
4.     Doria Pamphilj Gallery
Honestly speaking, I'm not sure how it is even possible for Doria Pamphilj Gallery to be considered a hidden gem and not one of the most prominent galleries in Rome, such as the Borghese Gallery and Museum.
This large, privately owned art collection is situated on the most famous street in Rome – Via del Corso.
So it is practically impossible to visit Rome and not pass by this gallery at least a few times.
Inside you can find a large number of masterpieces painted by legendary artists such as Titian, Filippo Lippi, and Caravaggio. Probably the most impressive work of art in the Doria Pamphilj gallery is "Portrait of Innocent X" by Diego Velázquez, one of the leading Spanish painters during the Spanish Golden Age.
If that's not enough, Palazzo Doria Pamphilj is very attractive in itself.
You can enjoy art in peace since it is seldom crowded. You don't have to wait in line or buy tickets in advance.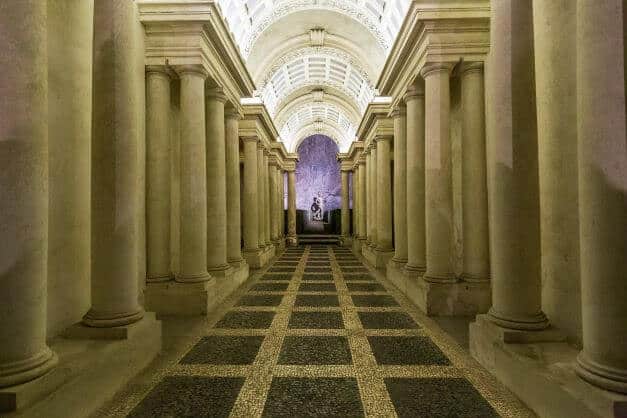 5.     Borromini's perspective
I have to admit that I also missed Borromini's perspective when I first visited Rome.
The Palazzo Spada is located in the historic centre of the city, but due to the number of beautiful buildings in this city, you will surely overlook some.
If you are short on time and don't have time to visit the Galleria Spada, then at least come to Palazzo Spada to see Borromini's perspective.
Francesco Borromini was an Italian Baroque architect who lived in the 17th century.
Borromini's perspective is considered a masterpiece of forced perspective optical illusion in the arcaded courtyard.
When you approach, you will have the impression that the colonnade is much longer and the statute much taller than they really are. The statue is actually only 60 cm tall, and you will have the impression that it is life-size.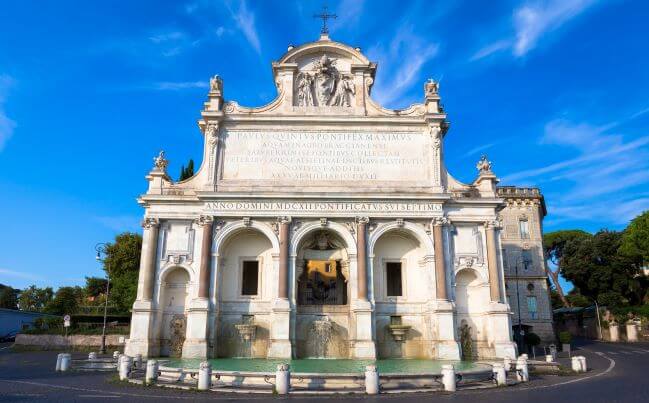 6.     Fontana dell'Acqua Paola
For thousands of years, fountains have been very important for Rome since they were a source of drinking water and decoration.
The Trevi Fountain (Fontana di Trevi) is stunningly beautiful and is one of the main symbols of the city.
However, the Fontana dell'Acqua Paola, or "The big fountain" is a must-see as well. Not only that the fountain itself is beautiful, but the Janiculum Hill where it is located, offers a perfect view of the whole of Rome. After admiring the fountain, cross the street, stand next to the Spanish Embassy and the whole city will be in front of you.
Take a few more steps and visit the Chiesa di San Pietro in Montorio where you can see Bramante's Tempietto in the small courtyard.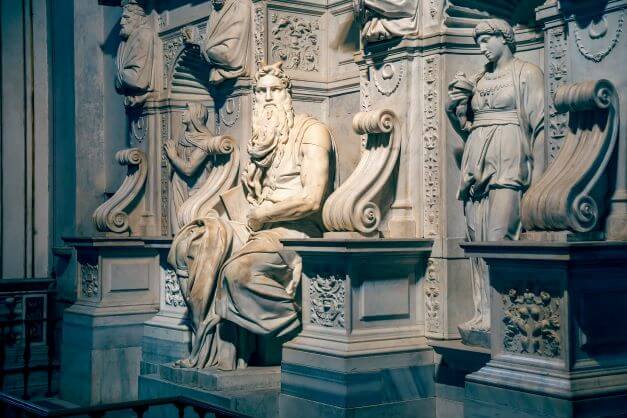 7.     Michelangelo's Moses
Renaissance means "rebirth" and in history, it refers to one of the most prosperous periods in European civilization when art, science, and wisdom were in focus.
The period when the Renaissance in Italy, and especially in Rome, reached its peak is called the High Renaissance, and Michelangelo Buonarroti is certainly the most important person of that span.
This sculptor, painter, and architect left an indelible mark on history.
If you didn't know, every church in Rome is free to enter, and we can thank Michelangelo for that since he bequeathed it to us.
Moses is one of his sculptures housed in the church of San Pietro in Vincoli.
This marble sculpture is stunning and you can admire it as long as you want, for free, of course.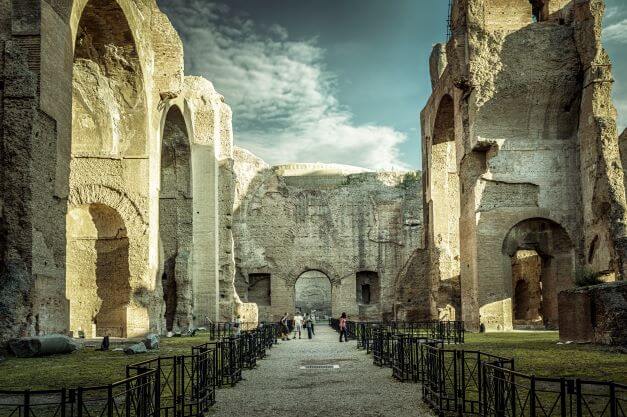 8.     Baths of Caracalla
When you leave the Colosseum and continue along Via di San Gregorio, you will see the Circo Maximo on the right.
But if you turn left and walk about 500m you will stumble upon the Baths of Caracalla.
Baths of Caracalla (Terme di Caracalla) were the city's second-largest public baths after the Baths of Diocletian (Terme di Diocleziano).
The Baths of Caracalla are about 2000 years old and have been out of use for more than 1600 years. That's why you will be shocked when you see how well-preserved certain buildings are.
You have to pay around £7 to enter and you should check if you are eligible for a reduced admission fee.

9.     Park of the Aqueducts
Unlike the previous eight places I've talked about, the Aqueduct Park (Parco degli Acquedotti) is located a bit further away from the city centre.
Nevertheless, it is not complicated to get to the park, because the Cinecittà metro station is nearby, and it is the penultimate station on line A. So you can catch a metro at Termini station or another station and you will quickly reach Aqueduct Park.
Ancient aqueducts run through the entire park, and this is also a great place to escape the heat and spend part of the day enjoying nature.
Conclusion
If you visit these places, you will make your stay in Rome complete. Yes, the Vatican City, Piazza del Popolo, Sistine Chapel, Piazza di Spagna, Basilica di Santa Maria and the Villa Borghese gardens are tourist attractions not to miss. This is just a list of alternatives for repeat visits on the Rome tourist map or for extremely busy days in Italy's capital.
You will surely be surprised that they are not more popular since they are equally attractive as the localities where there is a long queue. And if you enjoyed this advice, then you might want to look at my guide for best places to eat in Rome.
My final piece of advice is to watch Sorrentino's masterpiece "The Great Beauty" a few days before your trip to Rome. You won't regret it, I promise!