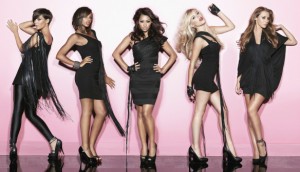 We've had our issues with them in the past, (sorry, that was terrible) but we'd be lying if we said we weren't excited to hear the brand new single from The Saturdays. We could potentially write a list longer than a giant gummy worm of reasons we dislike the girls, but at the end of the day, they still make some of the most exciting pop music around.
Keep reading to find out the title, release date, and even hear a sneaky acapella snippet of the lead single from their third full album.
UPDATE: THE TITLE HAS BEEN CONFIRMED BY MUSIC WEEK AS NOTORIOUS.
It all started when Mollie tweeted saying she'd lost a belt at the video shoot and claimed it was a "key item". Snaps from the set show that the belt says "Notorious". It was confirmed by Digital Spy that the song was written and produced by previous collaborators Ina Wroldsen and Steve Mac – and quick search on the BMI song database comes up with this. Sorted.
The sound: We've heard the words "different/fierce" and "harder" been used to describe it so far and supposedly it's a little bit more Pussycat Dolls. The artwork and video are said to be more edgy than usual, and there's talk of a graffiti covered wall making an appearance!
The release date: May 30th.
The clip: Some clever mentalist heard about the song being called Notorious and remembered Vanessa singing lines from an unknown song in one of the old Behind The Headlines videos. Listen here from 3:50 and see what you think – sounds legit to us!
So there you have it, everything you need to know about the new Sats single and from what we can gather, it's going to be another perfect pop moment. Before you go to listen to Higher, here's another tidbit. Space Cowboy (otherwise known as that-man-wot-made-some-good-Lady-Gaga-songs) hinted today that he's working on the new album. Can you imagine The Saturdays doing a song like Monster?!
Are you excited to hear Notorious?