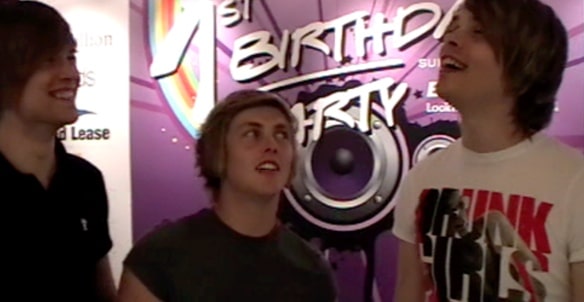 Earlier today we made the last-minute decision to head to the Transformation Trust's first birthday party at the O2 and were rewarded with the opportunity to hear The Saturdays sing new (new) song Higher live, overhear Stacey Solomon talk about something or other not very important, see with our own eyes just how tiny Tinchy Strider is (yes, it's in the name, still shocking though) and even spend 5 minutes grilling (relatively) new up and coming band Twenty Twenty. And if that last thing in our bizaree list of 'not-very good journalism' interests you, you better hit 'see more' hadn't you?
Twenty Twenty formed of brother 1 Sam (guitar, singing, likes Demi Lovato's music), brother 2 Jack (bass guitar, teentoday.co.uk's favourite – smiles lots), Sonny (drums, orginally a session player, came along for the ride) are an as-yet unsigned band that decided not to let them stop releasing some quite good music and pick up where oldschool McFly and Blink-182 left off (you can hear about new McFly by checking back soon) – think ridiculous hair, skinny genes, good-bloke personas who sing inoffensive to the masses, sparkly pop rock ditties about girl dramz, and confusingly every now and then sound a bit American.
Additionally, an exhaustive search through previous interviews as well as the band's own video diaries demonstrate two important things – on-the-road bands officially having more fun than you watch 2.30 – 4.30 and some nice overfamilar band member manlove. Here's some music.
Filed under things we don't like? Their use of the TT:TV label for their video content (our lawyers have been contacted). Oh, and their twitter pics makes them all look about 12.
And the interview? The whole thing was totally unprepared and last minute so it's not exactly out finest moment (of which there are few) but in our video interview we try (and fail) to get some juicy gossip from the guys – like reasons they're better than McFly, the best member of the Saturdays (potentially a wasted question, we all know the answer is Una) and other go-to last minute questions (loon fans, more about the Sats, best interview question you've ever had before). Oh and we hear of some exciting news too. To clarify, that's of, not what it actually is. Anyway, give them a go and let us know what you think below…