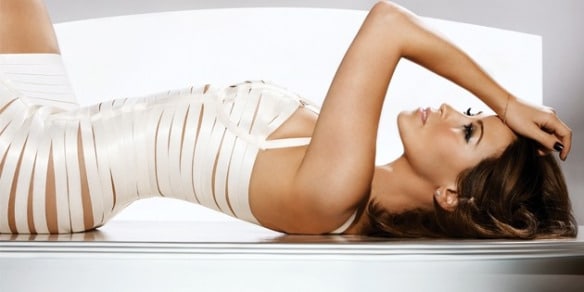 With a title like Come & Get It, Rachel Stevens was asking for it really. I.e. that the buying public would largely ignore this come-hither command and instead leave what is one of the year's most finely-crafted pop albums languishing in the chart's nether regions. Which is a real shame because it really is rather good – maybe she should have said please?
It gets off to a cracking start with the insidious electro-beats of So Good, which like those of other single Negotiate With Love creep into your head like some seriously sexy form of mind control. Crazy Boys is in the same coolly catchy vein, except much more fun and with more 'la la la's and 'ooooo's than Kylie ever managed.
In fact, electro-pop is a prominent theme and whilst last year's Some Girls is a pitch-perfect example of this, the ugly flipside is Secret Garden a frankly dire track that I wish had stayed a secret. It sounds, weirdly alien-esque voice included, like it could have been entirely produced on one of those Yamaha keyboards everyone seems to have received as a Christmas present at some point in their life. It still manages to be annoyingly catchy though, unlike the barely-alive Je M'Appelle, which seems to have dispensed with any instruments whatsoever and with the line 'Je m'appelle Rachel' boasts one of the most ridiculous rhymes since McFly's 'When she walks in the room/my heart goes boom'.
Nevertheless I Will Be There somehow manages to be an electro-ballad and an unusually good one at that, with Stevens lushly swooning as well as any lovestruck teenager whilst Nothing Good About This Goodbye is a really pleasant surprise, creating an infectious and deliciously light electro mid-tempo ballad (although check out Alexis Strum's original, which is just stunning and one of my favourite songs of all time).
The contagious Funny How and Every Little Thing are much poppier affairs and all the better for it – after all, there's only so much pure electro stuff an album (and indeed a review) can take. But for me, the highlight is the fabulous wonderful glorious I Said Never Again. By far the most energetic track and beating off stiff competition for most catchy too, it's an anthemic record that just cries out for love and I'm happy to oblige. If sex with an ex was as good as this song sounds, I would practise it more often, even if it involved letting people in my back door.
The main problem with this album is the fact it's by Rachel Stevens and that somewhere amidst the creation of this splendid effort, they forgot to give her a personality. With so many vague identities (lads' mag temptress, winsome girl next door, bouncy S Clubber, cool electro-pop princess), it's like a one-woman episode of Stars In Their Eyes. It's this that means no one's entirely sure who she appeals to. When the sad truth is, this album should just appeal to anyone who loves good pop music. The sooner we realise this, the better… but for now, just enjoy what is a near-immaculate collection. Post Strictly and La Roux flogging electro by the bucket-load, re-release anyone?!