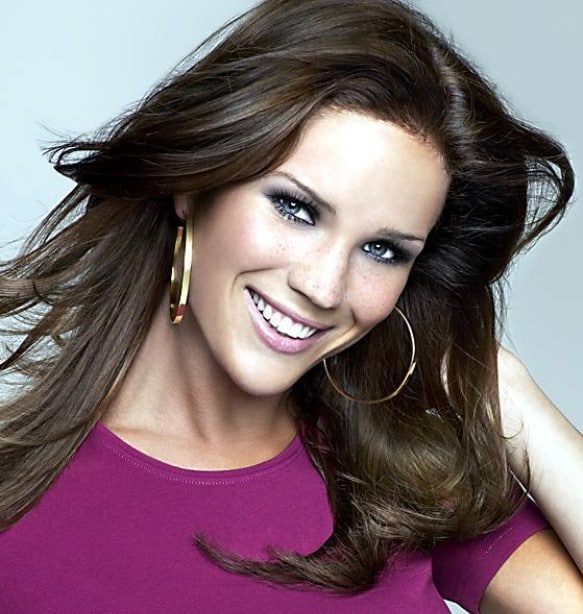 I am a little bit in love with Marie Serneholt (former member of A-Teens and current squeeze of Scandipop pin-up Måns Zelmerlöw). Come on, just look at that stunning photograph and tell me you aren't a bit too… Those eyes… those freckles… that glossy hair (incidentally, going brunette has done Serneholt wonders, she no longer looks like a Barbie)… that smile… *eyes glaze over* As Dame Tyra would say, 'Fierce!' Believe it or not though, this is actually going to be an album review…
So entranced was I by the gold glitter on Enjoy The Ride's front cover, it has taken me 3 years to realise it actually spells Serneholt's initials. This acts as an appropriate metaphor for my reaction to the album as a whole – I was so bamboozled by the dum-di-dum-di-dum-dum-di-di delicious deliriousness of lead single That's The Way That My Heart Goes (and it's pink sugar rush of a video) that it has taken me 3 years to work out that of Enjoy The Ride's other nine tracks, about eight are almost as good as TTWTMHG (as us diehard Serneholt fans call it… well actually no, I totally made that up to save me writing it all out again except now I've wrote a load more stuff so that was fairly pointless… look, I'm still recovering from the glitter revelation, ok?!).
TTWTMHG (see, it will catch on!) is everything a good pop song should be, somewhere in my top 50 of all time (regular readers will be piecing together a chart by now…). Let's face it, any track that manages to fit in so many dum-di-dum-di-dum-dum-di-dis must be just a bit brilliant. There are even some ba-da-ba-ba-ba-ba-bas and a few chik-a-booms. You can't go wrong with a chik-a-boom.

Of the tracks that are almost as good as TTWTMHG, I always knew Calling All Detectives was a minor masterpiece, with dreamy aaahs all over it like a ravishing rash, sirens wailing and police radios crackling prettily in the background and a running crime motif in the lyrics, reaching a pinnacle with the cracking middle eight where Serneholt purrs 'Case closed'. Enjoy The Ride with its gloriously innuendo-laden lyrics ('straddle the seat… the feeling all around is ecstatic inside') has a key change so good that I want to bottle it and keep it for a rainy day, I Need A House (covered on Same Difference's album) sees Serneholt at her most adorable, humming (!) and chatting about needing 'a car and a dog and cat and a fish and a job and a garden… ohmygosh!', I Love Making Love In The Morning is like downing a shot of sunshine and why on earth did I not notice The Boy I Used To Know three years ago?! I have been deprived of three years worth of a fantastic punch of a chorus.
The album is brought to an exquisite close with Oxygen, a ballad of almost unsurpassed loveliness where Serneholt's breathy 'huh's are more beautiful than my words can do justice. And when the choir kick in at the end… well we're moving into last dance at wedding song territory.
As pop albums go, this one comes near perfectly formed, rather like Marie herself. Enjoy The Ride? With Serneholt at the reins, what's not to enjoy?!