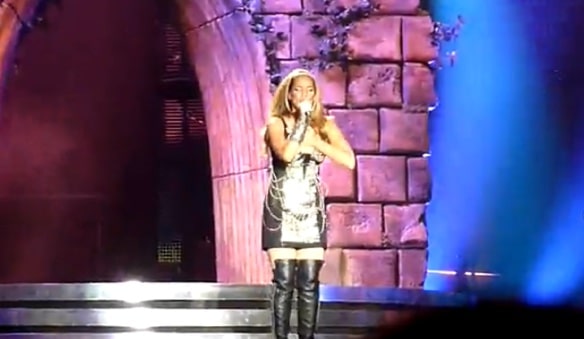 Leona Lewis's The Labyrinth Tour made its debut in Sheffield last night. We didn't go. But what we did do was 'curate' aka steal video, gossip and even opinion from innocent and not-so-innocent users of the interwebs to create a handy little cheat sheet. Here it is. Hit 'see more'…
THE SET LIST:
Intro
Brave
Don't Let Me Down
Better In Time
Whatever It Takes
Take A Bow
VIDEO Cover – T-Rex Ride A White Swan (video cover: Leona didn't perform this live)
I See You
Can't Breathe
Forgive Me
Happy
Cover: Could It Be Magic
I Got You
Cover: JT's Cry Me A River
First Time Ever I Saw Your Face
Homeless
VIDEO Cover: MJ's They Don't Really Care About Us
Outta My Head
Cover: Eurythmics Sweet Dreams
Run
Encore: Bleeding Love
THE GOSSIP
– The tour is inspired by the film Labyrinth. Leona said: "I have taken lots of inspiration from Labyrinth, loads of masks and costumes. I do like a stark performance. There are moments when it works with me just standing there singing in the mist. That can be extremely powerful. But I'm going to surprise people with lots of choreography and dancing."
– Here's a shoddy picture of the tour merchandise. niall28 described it as "tacky".
– The first night was at Sheffield Arena which has a capacity of about 13,500. IT WAS BLOODY WELL SOLD OUT.
– Gab Cilmi was the support act and performed songs including Invisible Girl, Sweet About Me, Defender, Hearts Don't Lie and On A Mission.
– Leona hasn't yet tweet about the show. Her last tweet was: "On my way to sheffield! First show is friday x." Not surprisingly the tweet before was something about horses.
– Leona opened the set with two ballads and got what she deserved: bums on seats and a rather lackluster reaction to the first half of her set.
– Her stage banter was mercifully limited to generic chit chat and platitudes.
– The audience took out their phones for Run, and lit up the arena like a starry night. Awwww * 500.
THE CRITICAL MAULING: Proper newspapers with actual paid journalists have their say:
The Times verdict – Finally, the wait really was over.
THE TWITTER VERDICT
niall28 – Show was great btw, not outstanding, but I think we should give her time to grow (from a loved and trusted TT user)
thespiritkj – Leona Lewis was great tonight. Would have been awesome if you could actually hear her over music in first half of concert. Sound was bad. Also, Leona really needs to rethink the show. Needs upbeat start to get it going. Didn't liven up until almost the end. Great set though.
FiOnion – Wow the Leona concert was AMAZING!!! It was one of the best concerts I've been to, and I've been to a lot!
Kaylee_Bake – Leona Lewis was amazing, Homeless and Run made me cry! I want to watch the show again and again!!
kayls87 – Just been to see Leona Live. One word AMAZING!!
romandennis: Leona lewis was absolutely amazing I thought she was gunna be so boring but she proved me wrong
Now make your mind up – Leona Lewis Labyrinth tour shit or hit? Comments below please…