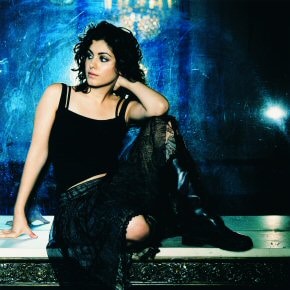 From Closest Thing To Crazy to UK's Top Selling Female Artist (two years running to boot!) Katie Melua is a music sensation and one in-demand lady.
Currently touring the UK to perform songs from the so-good-it's-already-sold-over-a-million-copies 'Piece By Piece', teentoday.co.uk's Natalie Edwards spoke to the singer about wanting to write for Babyshambles, performing with Queen and The Pogues, and most-importantly her views on Take That's an imminent return to the world of pop!
Now you're starting the year with a nationwide tour, are you prepared for it yet?
"(Laughs) Well…. No I have really been looking forward to it. We have just started rehearsals for it today for about a week and a half and then we are going up to Aberdeen and doing two days worth of production rehearsals there."
Are there any nerves?
"Not yet. There will probably be some the day before! I can't wait as it's so nice to be back with the band and playing with them again."
What is your favourite thing about putting on live shows each night?
"It's my favourite part of what I do and there is an amazing kind of energy that is created. When Jim plays a wicked piano solo and I get shivers down my spine and when Henry does an amazing drum thing and you just kind of explode in your head – it's all amazing really. "
Do you have any pre-show rituals?
"No, not at all. I am pretty laid back about just going on before a gig. I look forward to it. There have been times when I have felt like not going on stage but once you hear the first chord you just get into it straight away. It even works on a physical level where if you need to go to the toilet or you have a bad headache once you go on stage and hear that first chord it goes away and you just forget about it and start singing."
What ingredients do you need to put on a good show?
"I think one of the most important things is good songs and a good relationship within the band. If you have those two thing then you are going to have a great show."
What is your favourite song to perform?
"I am actually hoping that it is going to be a new one that we have just started. It is an old Bobby Gentry song called 'Fancy', which we have just started rehearsing literally today. It has a really nice funky groove to it. It's always good to have new blood."
You are best known for 'Closest Thing To Crazy'. Is it hard to keep that song fresh for you and not get sick of it or do you still love performing it?
"I do still love performing it because it is such a good song. I still really appreciate it. I might say something different in about ten years time! It was only released – what about two-three years ago – so it still feels fresh for me!"
You have come so far in that amount of time and you are now the UK's top female artist. Is that quite daunting for you when you hear that?
"It is pretty hectic! To be honest it is more sales and stuff, which is obviously very flattering, but you can't get too attached to it. I don't think that you can measure music from numbers as I think music is so much more complicated than that. I don't want to sound like I am ungrateful for all the sales and stuff but I just think it is far more complicated than that because there are so many artists out there that I love who don't sell a lot and there are artists who I don't understand that are selling millions. It's like what the hell is going on?!"
Does it put more pressure on you to succeed when you are given this accolade?
"No not really. I don't think of myself as that! There is no pressure in that sense at all."
What are your hopes and aspirations for the New Year?
"I would obviously like to get started with the third album and do a wicked tour. Mainly get the third album out of the way."
Have you started work on that?
"Not in the sense of recording wise. We are going to start doing that about middle/late 2006."
What are your plans for it?
"It's all top secret!"
What sort of sounds can we expect to hear from it?
"I think part of my sort of my – it's going to sound really cheesy – musical journey is that I want to go back more and more to my roots. I come from Georgia and its music has always fascinated me and I think has always been deeply rooted in me as a person. I think with each album I eventually I want to end up getting to that place where a lot of it is influenced by Georgian music. I think 'Piece By Piece' was more influenced by Georgian music but in a more subtle way. So the third album should be the introduction of that even more. Primarily what I believe is that you go into the studio and jam and experiment and you don't really set yourself out with too many rules or too many limitations."
Did you make any New Year's resolutions?
"There was one but I can actually remember it….oooh…oh yeah it was that I want to learn how to roller blade! Just to have a nice little sport that you can do!"
You have worked with the likes of the The Pogues and Queen to name a couple. Who has been your favourite to work with?
"The Pouges are amazing and bizarre – but brilliant! I have been a fan of Queen since I was five years old and they are like my favourite band ever! I got to perform with them at the Nelson Mandela concert, which in itself was very special. Queen was definitely one of the highlights of the year."
Are there any artists that you plan to work with in the future?
"At the moment no as I am working on my own solo stuff but again it is not something that I would ever rule out."
Going back to The Pogue's you recorded a new version of their classic 'Fairy Tale of New York'. Were there any apprehensions for your part as it was made famous by the late Kirsty McCall?
"Yeah there was because I didn't really want to replace her. I am actually a fan of Kirsty and I know one of her sons quite well and he was the only person, for me, mattered most in terms of asking whether I should do it or not. I was quite surprised at being asked, as 'Katie Melua and The Pouges' is probably the most juxtaposed pair of artists you could ever imagine! I think deep down we are all the same but on the surface it is quite a weird one! I was very flattered as they are a great band and the songs lyrics itself are amazing and people don't often realise."
Are you planning to pen songs for anyone?
"I would love to do that definitely! At the moment I haven't really had that much time to think about writing for other people but it is something I would love to do in the future."
Who would be your ideal person or group?
"Oooh…let me think…that is a really good question! I think someone like Moby maybe as that would be quite interesting or even someone like Babyshambles as that would be quite weird! I think they have got so much talent and you get real amazing bits of genius from their album. I would like it to be more apparent."
What is your favourite track from your new album?
"I would say probably 'Spider's Web' but generally it is really hard to choose because they're your songs!"
Do you have a favourite set of lyrics from a particular song?
"Ooh…I would say maybe from that same song – it's in the bridge – "Remember the guns and the feathers in time." It's a reference to an old wartime tradition in the first and second world wars."
Boyzone have announced plans to follow Take That back to the live arena for a reunion tour and possible new hits album. What do you think about these old groups reforming?
"I actually really like it! I was nine when Take That came out and I was a fan of it. It is not intellectually great music and it would be easy for me to put it down as I sometimes say that I belong to the more non-manufactured strand. But it's fun and they did have great pop songs. I think they are much better than any of the boybands that are around today."
Are there any that you would like to see reformed?
"I would actually like to see All Saints reform because I think they had some really good songs and had a bit of an edge to them.
Following the release of her second number 1 album 'Piece By Piece', Katie announced an 18-date tour of Britain and Ireland. Starting in Aberdeen on January 20th the comprehensive tour includes venues across the country ending in Katie's former hometown of Belfast on February 13th.
Fans can look forward to live renditions of songs from 'Piece By Piece' including the Top 5 single 'Nine Million Bicycles', 'Spider's Web' and the beautiful 'I Cried For You', as well as favourites from 'Call Off The Search' such as 'The Closest Thing To Crazy' and 'Crawling Up A Hill'.