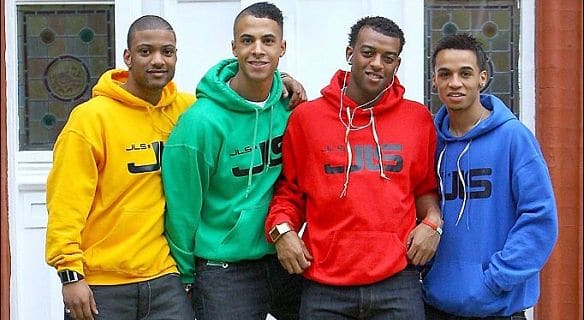 The group section for the X-Factor has always yielded slightly unconvincing results (we may have loved Same Difference but it's obvious our love wasn't shared by many over the age of 12) but last year's JLS are looking to be the exception that prove the rule. Their first single, Beat Again, is out on 13 July – and first singles from reality show contestants really aren't meant to be this good! Click see more to check it out.
We've been in need of some flesh boy band blood to paw over in the UK scene for a while and there's only so many more reunions of man-bands we can take. With Beat Again, JLS are doing a credible job of straddling the pop/R n' B route that Blue once nailed before they were reduced to singing Kool & The Gang covers (helped by the fact that such a pop/R n' B scene is now near non-existent in the UK). And looking at Aston, JB, Marvin and Oritsé is hardly a trial now, is it?! Although we can live without the ease-of-identifcation coloured hoodies, thanks lads. (Oddest promo shots ever btw, were these shot by their best friend's mate outside their own house or something?!)
The video may look as if it was shot in a disused warehouse and sponsored by a strobe lighting company but the song itself is catchy as hell and boasts that teentoday.co.uk favourite, a barmy dance routine. Seen those literal music videos where the new lyrics are exactly what's going off in the video? Well, JLS's choreographer has taken a similar approach, including pointing at invisible wristwatch for 'time' and fluttery hand-on-heart movements that are a bit like making a bird shadow puppet for 'beat again'. Making the boys fall on the floor and play dead for a line about dying?! The man should either be shot or knighted.
We're hoping we don't jinx it, but this has number one written all over it. What with the great girl band influx of 2009, let's bring back the boy band readers!