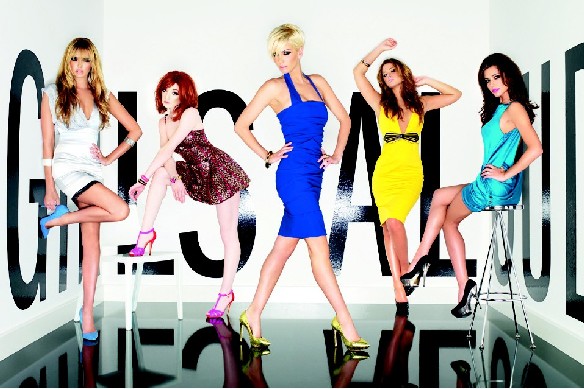 Release date: 3/11/08
Label: Fascination
UK Peak Chart Position: 1
UK Sales: 796000 (2× Platinum)
The best and worst thing about Out Of Control is that it is by Girls Aloud.
The best thing because this is a Girls Aloud album, meaning that by default it will be approximately 22 times better than any other pop album released this year.  The worst thing because Girls Aloud have set such high standards for themselves over the past six years that they were bound to disappoint at some stage, and it has finally happened with Out of Control.
Girls Aloud albums consistently impress because they are innovative, unpredictable and eclectic bursts of irrepressible pop magnificence.  Last time round, production team Xenomania chucked every music style they could think of into a melting pot and came up with Tangled Up, a superlative pop album.  On Out Of Control, despite the promise of the title, they're disappointingly shorter on ideas as the tracks can be split roughly into two categories – Girls Aloud madness or accomplished electro.
In the madness corner, we have Miss You Bow Wow, Love Is The Key and Revolution In The Head, all wonderful and with suitably bonkers-but-brilliant lyrics.  In the accomplished electro corner, we have the stunning melancholy of Pet Shop Boys-penned The Loving Kind (think Call The Shots, but better) and the beautiful Untouchable.  There's also the retro romp charms of The Promise, the really rather lovely Rolling Back The Rivers In Time and one of the worst songs Girls Aloud have ever recorded, Fix Me Up.  And Nicola Roberts, who has never sounded or looked better, owns the album.
The lack of true surprises and trademark grab-you-by-the-balls moments may disappoint, but only by the group's own unstinting standards.  In anyone else's book, this is a bloody fantastic record.
Who are the Girls Aloud?
Girls Aloud are an English/Irish pop girl group, who competed on the ITV talent show Popstars: The Rivals in 2002.
The singing group's memembers are Cheryl Cole, Kimberley Walsh, Nadine Coyle, Nicola Roberts and Sarah Harding.