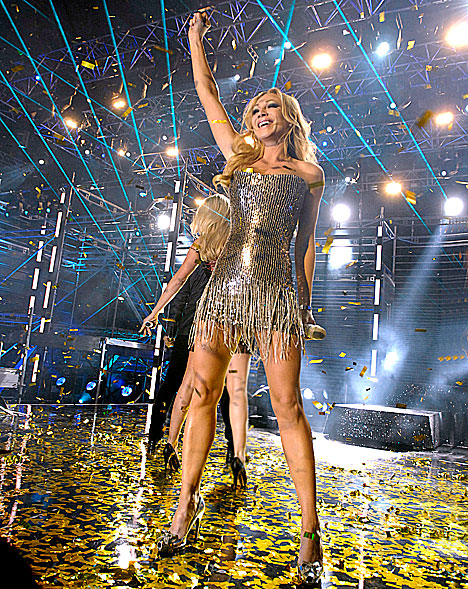 Well, it was Eurovision this weekend and true to form, Scandinavia brought home the bacon in the form of Norway's Alexander Rybak with his giddy fairground ride of a song, Fairytale. This got us thinking about another classic Eurovision Scandipop moment… the cautionary tale of Charlotte Perrelli née Nilsson…
If you were to think of an archetypal Eurovision song, Take Me To Your Heaven would probably be it. A complete Tigger of a song – showstopping intro, lots of ooohing, spangly bits, brass section, tinkly digital piano bit, amazing build-up of a middle-eight followed by (oh yes!) you know the score by now, an epic key change – fronted by a pretty blonde Swedish girl with a belter of a voice and megawatt smile. No surprises then that Charlotte Nilsson carried off the trophy in 1999, and her nubile blonde form encased in those tight pink trousers can't have hindered matters.
Fast forward to 2008 and guess who's back to represent Sweden at Eurovision… it's only Charlotte Nilsson, but with the fancy new surname Perrelli thanks to getting married (oddly enough, not to someone whose last name was actually Perrelli… those crazy Swedes…).
The song, Hero, is pure schlager at its best – even better show-stopping intro, dramatic slow verses, soaring strident chorus, amazing build-up of a middle eight followed by, why do I even bother saying it anymore, an epic key change. The performance amplified the spectacle even more – strobe lights that flashed at key moments, short sparkling dress, blingtastic microphone, long blonde curls swinging in the blast of a wind machine, an ever-growing army of backing dancers, defiant victory pose at the end.
Only one question – what the fuck had happened to Perrelli's face?! Oddly immobile, with a glassily smooth forehead that remained rigid through all Perrelli's attempts to smile and slitty eyes now somewhere up near her forehead – no-one tuned into Melodifestivalen (Sweden's Eurovision selection process) expecting an episode of Invasion of the Body-Snatchers. Come Eurovision, Hero limped in at 18th place… whether voters were scared off by Perelli's frozen face remains to be seen. Still a great song though.