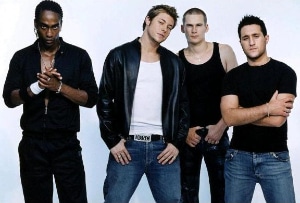 It was only yesterday that we were reminiscing over the Backstreet Boys, and now another classic boy band have announced that they are getting back together for a stab at Eurovision.
Yep, Antony Costa, Duncan James, Lee Ryan and Simon Webbe have a brand new song under their belt and are taking on the competition. Find out all the details after the jump.
Unlike previous years the song and act that will represent the UK has been chosen with no input from the public and also marks the first time that the UK have sent an established act to Eurovision. 2009′s entry was Sugababe Number 54; Jade Ewen who failed to wow with her shouty ballad It's My Time.
But of course the only way for us to get our true Blue fix is to watch the special one hour documentary that will show the recording and promotion of new track I Can – which will air on the BBC in April.
Duncan's reaction? "We're celebrating our 10 years together in 2011, so when the BBC approached us it seemed a great way to mark the occasion and also to be part of something which is still a British Institution."
So, we're sending Blue, and Ireland are planning to send Jedward? Europe aren't going to know what's hit them…