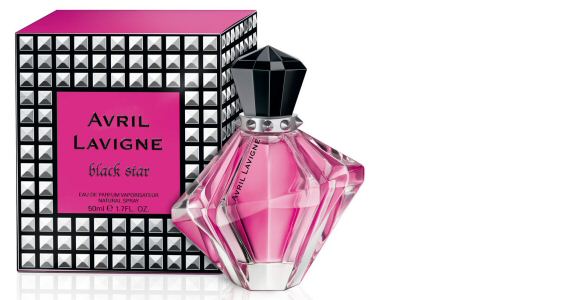 Mini punk Avril moves into the more feminine (and highly lucrative) world of celebrity fragrance with the launch of her debut scent Black Star, perhaps showing that at the ripe old age of 24 she's finally left her rock days behind. Hit "see more" to find out what we think.
Now in our experience teen fragrances are more often than not sickly sweet and overpowering. Our teen years were spent in a cloud of various scented Impulse body sprays…anyone else remember them? Or are we that old.
This offering from little Avril though is quite grown up despite being aimed at the 11-19 year old market. Green pear, pink hibiscus flower, black plum and dark chocolate are just some of the distinctive and yummy scents that combine for a great fruity fragrance that's ideal for the summer months. Whilst the scent is decidedly feminine the bottle reminds us of the Avril we all some of us know and love with a pink star shape and a studded black cap. At £19 it's pretty cheap as far as fragrances go so a great buy for you or your little sister.